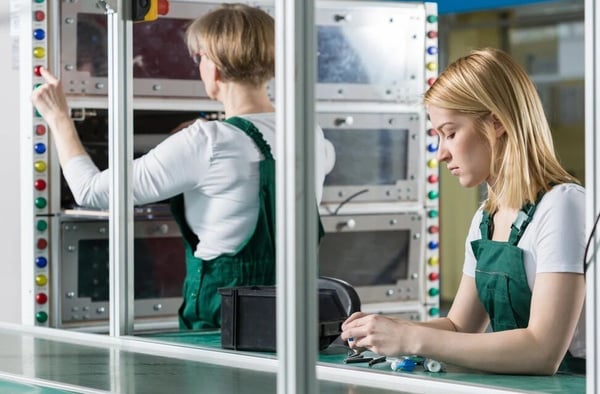 Do you work for an original equipment manufacturer, or OEM? Chance are you've crossed paths with a project requiring an electronic manufacturing services company.
Electronics manufacturing services (EMS) are those offered by companies that design, test, build, deliver, or give aftermarket help for electronic parts and assemblies. A steady, expert hand guiding you through the manufacturing process can give your product a leg up on your competitors.
What to Expect From Electronic Manufacturing Services Companies
Electronics contract manufacturing services vary by supplier. Any given partner may offer anywhere from one to all of these services:
PCB assembly

Cable assembly

Electromechanical assembly

Contract design

Testing

Prototyping

Aftermarket services
Some of what you see here is industry-standard, while other offerings are more niche or specialty. Either way, here are a few thoughts on EMS companies:
Working with a company who has a dedicated engineering staff is super valuable.

Make sure your vendor has the industry-specific certifications you need. A medical company, for example, might need a specific certification that a gas meter company does not.
Here's what to expect with EMS:
PCB Assembly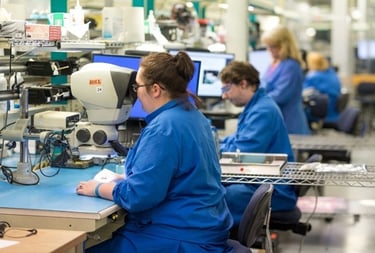 Printed circuit board assembly, or PCB assembly, is the process of using surface mount technology or through hole to solder components like transistors, resistors, and integrated circuits onto a bare board. A completed PCB lets you route power and signals between physical devices.
Through-hole takes a little longer because it involves more human interaction with the board. Surface-mount technology is a little more advanced and is the standard for most modern products.
Circuit board parts are so small, you don't necessarily know you're building it wrong until you test it. Luckily, the complete electronics manufacturer will offer full functional in-house testing services. More on that below.
Cable Assembly
There's more than just cable assembly to these services. Other products associated with these services include:
Harsh-environment cable assemblies

Harnesses

Control panels/boxes

Mechanical subassemblies

Panel wiring and assembly
The well-rounded provider will engineer, test, and manufacture the products.
For cable assemblies, manufacturing is done with hand soldering -- your vendor should be certified in this. Many can also have injection overmolding capabilities. This refers to a process in which a single part is created using multiple materials. Typically the first material (sometimes called the substrate) is at least partially covered by subsequent materials (overmolds) during manufacturing.
Does your vendor offer custom overmolding capabilities? It's something worth checking out before you buy.
Time to test? Cables can receive a functional test and a pull test. The testing process doesn't need to be as rigorous as with PCB assemblies.
Forms of these tests include automated cable testing, and continuity and "hipot" testing. "Hipot" is short for high potential, which in turn means high voltage. A hipot test is the opposite of a continuity test in that it makes sure no current will flow from one point to another.
Electromechanical Assembly
These services refer to products such as box builds. Depending on the manufacturer, these enclosures come:
A robust electronics manufacturers may have a dedicated final assembly team for these services.
A vendor can also offer:
Custom shipment packaging

Functional testing

Configuration management

Encapsulation

3-D modeling

Potting and heat shrink use
Configuration management is a means of establishing consistency in your product's performance and look. Potting is the process of filling a finished assembly with goo-like stuff to improve moisture, vibration, shock, and corrosion resistance. Heat shrink is a shrinkable plastic tubing that goes over the cable. So you're literally getting another layer -- ranging from paper-thin to industrial-sized -- of abrasion protection for your product, whether it goes in a mine or another dangerous place.
All electromechanical assembly work should be done with intrinsic safety in mind -- both in the design stage and the manufacturing process.
Contract Design
Sometimes you need an expert, and that expert does not exist inside your building. That's OK.
Contracting out design lets you take advantage of industry-specific, expert engineers and production teams. They will generate:
Software and firmware

Validation tests

DFX analysis (design for manufacturability, testability, cost-effectiveness)

Environmental tests for compliance
The vendor should be doing this while providing documentation to you every step of the way and meeting regulatory approval.
But EMS can really shine when a vendor jumps all-in on the product development process. That means getting involved before the product design actually takes place.
Electronics manufacturing services should include the engineers, material manager, and others helping refine a contracted design through:
Circuit simulation and prototyping

Testing

Costing exercises

3-D CAD and physical modeling

Technical feasibility studies

Quality review
Did "costing exercises" catch your eye? You can come to a vendor with your price problems -- it may be able to find substitute components that are less expensive. All without lowering final product quality!
Testing
Before that shipment of circuit boards arrives on your doorstep, you want to be sure you're getting what you paid for -- a properly assembled, fully functional board. Anything less can compromise your supply chain.
Failing to commit to PCB testing can
Hamper lead times

Cost extra money to fix issues

Harm the reputation of your product and company

The ways your electronics contract manufacturer can test a PCB assembly are staggering. Manufacturers' offerings range from a visual inspection (basic) all the way up to a functional test (allows for a turnkey operation).
Types of PCB testing include, but are not limited to:
If you opt for extensive testing before you receive your product, you'll know it was built to your specifications. Most importantly, you'll know whether your product needs additional testing or it's ready to send off to your own customers.


Prototyping
Messing up an electronic device rollout can be painfully expensive. PCB prototyping can help you avoid an embarrassing situation when you head to launch.
Many of the justifications for prototyping are obvious, but not all of them:
Design fault checks: An expert ECM can easily detect technical and human faults. It can then recommend improvements before you finalize your design.
Product durability: In the real world, your product often has to withstand at least one of the following: temperature variations, power variations, shock resistivity.
Protecting your budget: Is your product intended for the masses rather than a niche market? A redo is going to be especially costly. Once the final PCB design heads to mass production, there' no "rewind" button.
Confirmation for production: Overall product design and packaging depend on the PCB's design and size. Prototyping will solidify these attributes.
Product characteristics inspecting: Sometimes, the practical values of the product are a shade off the theoretical values considered in the design stage. Prototypes can help you check and update these values.
PCB prototyping services often takes one of these four forms. As you go down the list, the build gets more "complete":
Visual model

Proof of concept

Working prototype

Functional prototype
You can learn more about the types of PCB prototyping here.
Aftermarket Services
EMS will give you bang for your buck if, as part of the deal, your vendor offers capabilities in:
Repairing

Refurbishing

Calibration

Upgrading
This can include work on products manufactured by another company and on legacy products that require sustaining engineering.
Some service providers can even help you get ahead of the issues with failure analysis. If the same repair is being done repeatedly, a provider may jump in and quote a redesign that will save you money in the long run.
Obsolescence is a similar issue in electronics manufacturing. When a part is nearing the end of its life, your supplier can quote you for new supplies so you're not caught unprepared.
There are three possible recommendations the provider will offer:
End-of-life -- the part is no longer useful and no longer supported

Last time buy -- a final bulk purchase before the maker discontinues the part

Not recommended for new design -- The future of the part is uncertain, outdated, or carries risk of becoming obsolete.
To help manage component obsolescence, a vendor should offer life-cycle analysis. This assessment looks at the total environmental impacts of a component through its entire life. Before you even finish production, your vendor can proactively look for parts that will need replaced and help you them obtain alternatives.
So, despite the term "aftermarket," some of these services can benefit you before customers see your end result. You should always be aware of the risks before you send a product to market!
Other aftermarket services available include:
Cleaning

Inspections

Painting

Troubleshooting

A whole lot more




Vendor Choice Matters
This is just a beginning overview of electronic contract manufacturing services. As you can see, what you get varies greatly by vendor. Some are simply looking to print bare boards in huge volumes. Others offer complex, creative solutions in smaller volumes and assist with several steps of the supply chain.
Click here if you have further questions about what an electronics manufacturer could or should provide.


Related Articles
(Editor's note: This article was originally published in May 2018 and was recently updated.)