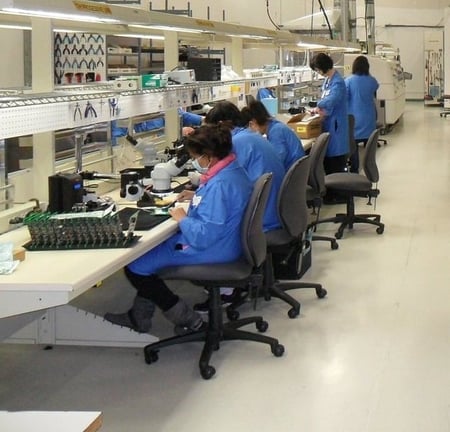 Consolidating services is a great way to reduce costs, lead times, & confusion. Unfortunately, most electronics contract manufacturers (ECMs) don't offer services throughout all stages of the development process.
Since Matric and Dynamic do -- from design to production to repair -- we wanted to explain the capabilities of an all-in-one electronic manufacturing services company. Keep reading and you'll find that ECMs can handle more in-house than you realize!


An All-in-1 Electronics Manufacturing Services Company Should Do This ...
Electronics Manufacturing Services
Electronics manufacturing services are offered by companies that design, test, build, deliver, or provide aftermarket electronic parts and assembly services. The size and scope of those services depend on whom you work with -- for example, we specialize in high-mix, low-to-mid-volume assemblies.
There are two ways to put a printed circuit board (PCB) together -- through-hole and surface mount technology (SMT). Because we've used surface mount since the late 1980s, we can take your aging through-hole product and convert it to a more modern SMT design. This is possible thanks to state-of-the-art machinery that's improved both speed and accuracy. Again, not every SMT PCB assembly supplier can do this, so research before you send a quote.


Services
Prototyping through production quantities

Laser ID marking on PCBs

Conformal coating

Repair and revision upgrading

Burn-in and thermal cycling

Complete turnkey & box build assembly
A few of these deserve further explanation.


Surface Mount Technology Assembly Services
Here are the specific capabilities Matric Group (Matric + Dynamic) works with:
6 automatic SMT assembly systems

IPC-certified, lead-free processes with RoHS compliance

Ball grid array & micro BGA

High-speed line capable of placing 100,000 parts/hr.




PCB Testing & Prototyping Services
No matter the order volume or complexity, your ECM should aggressively pursue a goal of zero defects. Matric Group uses a wide variety of PCB testing methods to monitor quality, including:
X-ray inspection

BGA inspection equipment

System simulation

Visual inspection
Electromechanical Box Build Services
Steel, aluminum, or plastic enclosures

Custom packaging for shipment

Intrinsically safe electronics design & manufacturing

3D modeling




Electronics Engineering Services
Electronic design services should turn your product concept into a reality, no matter the complexity. And the experience and skill of your PCB design company should be on display from initial discussions through final product validation.
All products need to be well-built, often attractive, and sometimes both. Matric Group routinely develops custom housings in conjunction with PCB form factors. We'll advise you on the ideal material, whether it's stainless steel, aluminum, or injection-molded plastic.


Services
Analog and digital contract PCB design

Schematic capture and contract PCB layout

RF design and site assessment

Intrinsically safe

power, barriers, & systems

Enclosure design & 3D modeling

Power switching circuits & drive

Breadboarding, prototypes, & simulation

DFX & DFM analysis

Validation

Environmental Compliance

CE precertification assessment

Custom test fixtures & procedures

HALF (Highly accelerated life testing)

DFMEA (design failure modes & effects analysis)

Electromagnetic immunity & emissions compliance
OEMs should expect support with product development that meets ISO 9001, ISO 13485, and AS 9100 standards. Matric Group will do that while also validating your product through recognized industry standards
Custom Cable Assemblies
Custom cable and mechanical assembly can also be a one-stop experience.
Specializing in harsh environment cables, Matric crafts reliable cables for mining, medical, instrumentation, and other fields.
With a certified quality management system, your contract electronics manufacturer should be able to engineer, test, and produce quality cable assemblies ranging from micro push-pull connectors to harnesses and complex mechanical subassemblies.


Cable Assembly Services
Refurbishing & updating capabilities

Dedicated engineering staff

Certified hand soldering

Build to IPC-WHMA-A-620
Cable Assembly Products
Custom cable assemblies

Harsh-environment cable assemblies

Custom cable & wire harnesses

Mechanical subassemblies

Control panels/boxes

Panel wiring & assembly

Fine pitch down to 01005 parts
Custom Overmold Capabilities
30-ton, 5 oz. plastic injection molding machine

Custom mold design

Variety of modular molds in stock

PVC, polypropylene, & santoprene
Specialty Tools & Equipment
Automatic wire strip & over 250 crimping tools in stock

Automatic test equipment

Continuity & HiPot OmniTester equipment

Positioners, die sets

Insertion & extraction tools




Aftermarket Services
Your ECM's commitment to customer satisfaction must continue long after product delivery.
Check for three qualities in an electronics aftermarket services provider: experience, expertise, and technology. For example, Matric Group keeps the customer's supply chain going with product upgrades, calibration, and repair services handled by state-of-the-art equipment run by skilled technicians.
Regardless of where your industrial or consumer was made or what it was made for, your electronics manufacturing services provider should have the know-how to service it properly.
Services
Calibration

Refurbishing

Remanufacturing

Automated system simulation

Burn-in

Component-level troubleshooting

Electrical & electromechanical
Products Serviced
Underground mining electronics

Industrial cabling

RF handhelds & base stations

Single-board computers

Consumer electronics

Distributed control systems

Displays & HMI devices
Additional Capabilities
Cleaning

High-pressure spray washer

Low-temperature drying oven

Sandblasting

Proprietary cable-cleaning machine (cleans any length in seconds)

Two-sets-of-eyes inspections

Thermal testing

Painting facility

Conformal coating

Repair analysis by part number, product group, or by customer

Bringing units back to OEM specifications




Obsolescence Management
Losing a critical component at the wrong time can make life very hard for OEM teams trying to get a product to market.
Fortunately, your ECM can employ several tools, strategies, and services your ECM can employ to take the burden of electronics obsolescence management off your shoulders.


1. Component Forecasting
The best way to succeed with forecasting is to ensure the customer/supplier communication channel is always open.
Talk to your ECM about what's coming up. It should orchestrate the last-time buy and NCNR (noncancelable, nonreturnable) orders you need to keep the supply chain well-oiled.


2. Component Inventory
It's hard to be mindful of your stock when so much else is going on at the office.
Offload your inventory management headache to an ECM. Component inventory management makes sure you're not stuck with unpopulated boards you can't fill, or with boards, you have to redo from scratch.


3. Engineering
Work with an electronics manufacturer that treats your case as unique.
When the right ECM handles your lifecycle management, you'll get:
A prompt heads-up

Troubleshooting

A solution that's as cost-effective as possible without impacting performance.




4. SiliconExpert
Nobody expects you to have your bill of materials memorized. That's why we work with SiliconExpert to organize all component manufacturer data into a single, regularly updated program.
Anytime a component's on life support, you'll get a quick alert.
Click here for an in-depth explanation of obsolescence management.
The Role of Turnkey Electronics Manufacturing
Surprised how much the right electronics contract manufacturer can do? Don't be -- there are reasons the best electronics manufacturers offer all-in-one services:
Full understanding of your project and goals (and fewer miscommunications)

More invested in its success

Fewer shipping and transportation costs and delays
If you'd like to learn more about what turnkey PCB manufacturing is all about, click the graphic below.
(Editor's note: This blog was originally published in October 2019 and was updated in August 2022 to reflect current information.)