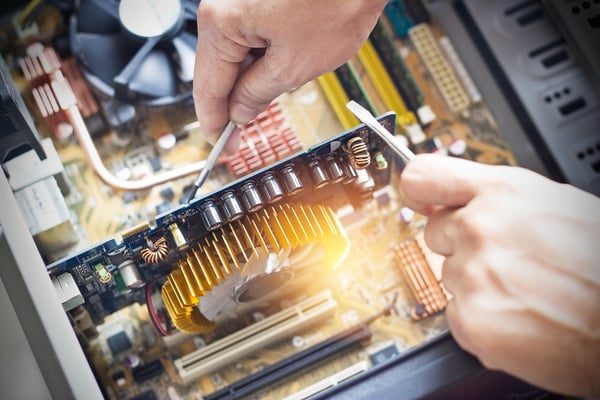 You buy your electronic components, your machines are up and running, customers are happy, your workers are happy -- everything is good. Invoice paid, accounts receivable piling up. Paradise.
But, when things are running smoothly and skies are blue, it's easy to forget about the snake in the grass: obsolescence and failing electronics.
Aging technology is inevitable, but it doesn't have to destroy your Garden of Eden. Partnering with an electronic manufacturing services provider for aftermarket services can stave off the financial impact of a dead-in-the-water product line.


What Electronics Aftermarket Services Are All About
Electronics aftermarket services are a way to preserve your equipment and eliminate undue costs from expensive redesigns.
The goal of any good AMS strategy is to keep your machines up and running as long and as efficiently as possible. A reputable service provider should be able to service equipment manufactured elsewhere and legacy products that require sustaining engineering.
Aftermarket services include:
Cleaning, testing, and inspection
Component-level troubleshooting
Recalibration and repair
Data analysis
Of course, obsolescence management is part of AMS, but that's a fairly large process all on its own.
Here's a breakdown of all the things AMS can do for you.


Cleaning, Testing, and Inspection
Have you ever opened up a PC and found a bunch of dust clogging up the fans or coating the motherboard? The same thing can happen to industrial electrical equipment, which is why cleaning is such an important service. Dust and grime can become safety hazards if they pile up, so routine cleaning is a must.
Testing and inspection are also critical. Electronic components testing services make sure your equipment is up to code and decrease the risk of workplace accidents or machinery malfunction. While testing before an initial product launch is important, don't underestimate the value of testing a refurbished, redesigned, or repaired product.


Component-level Troubleshooting
A principle of life cycle management is to look for ways to replace individual components rather than the whole product, and it's no different with servicing. Skilled technicians are able to service electronic products down to the component level using through-holes or simultaneous multi-threading.
Make sure that your aftermarket service provider is equipped to handle projects like:
Electromechanical servicing and design
Cable and wire assemblies
High voltage equipment
Radio frequency (RF) modules
System rebuilds
Here, we'll go more in depth about these topics.


Electromechanical Servicing & Design
Electromechanical components are sometimes difficult to replace or repair. A good aftermarket services provider should be able to work with switch and junction boxes as well as antenna assemblies. And if servicing doesn't work, rebuilding or modifying a current build should always be an option.


Cable & Wire Assemblies
Cables can sustain damage pretty easily, so service and repair for cable and wire assemblies is a big part of AMS.
Your provider should be able to work with a variety of cables, from coaxial to heavy-duty, multiwire, ruggedized cables. Some AMS providers only accept up to a certain length of cable, so ask ahead of time.
Another aspect to consider is whether your provider uses AT attachments for cable validation; it offers more testing than conventional methods and takes a fraction of the time. Matric's, for example, can handle up to 37 wires per bundle, which greatly increases the output speed.


High-Voltage Equipment
Chances are you have high voltage equipment that needs servicing, so look for an AMS that can handle high-voltage products for industrial control systems.
Detail the specs of your equipment up front, including the input, phase, and amperage.


RF Equipment
Radio frequency equipment can be tricky, so an AMS supplier that knows its way around RF modules is definitely a plus. Your provider should have experience servicing ruggedized transmitters and receivers involving multiple channels, low power, and high sensitivity.
It should also be able to address operator stations, including:
Displays
Membrane or mechanical switches
Programming
Battery issues
Enclosures


System Rebuilds
If all else fails, rebuilding the system is the last resort. Your electronics remanufacturer should work with you to design a better system and coordinate the purchase and installation of new parts.
If it didn't work the first time, your AMS should make sure it does on round two!


Recalibrate, Recondition, Repair
Sometimes your repair won't be so extensive that you need a system rebuild, and that's obviously vastly preferable. But it's still annoying.
That's why if you partner with a quality AMS provider, you'll mitigate the frustration of broken components or misaligned equipment.
Your partner should be able to:
Refurbish used machines
Remanufacture specialty parts
Provide field service
Update and revise product software
All of these services help you avoid junking your electrical components and shelling out exorbitant amounts on completely new systems.


Collecting, Storing, and Analyzing Data
Any process improves when you study the "why" behind it, and electronic components are no different. Looking back at the service history or failure analysis reports of a product can help you understand what you should do next.
To avoid obsolescence and potential incompatibility risks, AMS providers need to keep an extensive report of changes and updates made to your equipment.


A Sustainable Partner That Will Last
Now you know what an AMS can do for you, keep an eye out for full-service electronics manufacturing providers. Whether it's electromechanical redesigns or comprehensive service history, the right AMS will make all the difference for your manufacturing needs.
To learn more about what an AMS provider should do to stabilize your product output, check out our capabilities handbook!

Interested in a webinar about aftermarket services?