Electromechanical PCB box build assembly services are one of the most important offerings of electronics contract manufacturers. In addition to the manufacturing and population of PCBs (printed circuit boards), this full turnkey production is a simple, all-in-one approach to addressing your manufacturing needs. This includes wire harnesses, metal fabrication, and sub-level assemblies.


PCB Box Build Assembly Services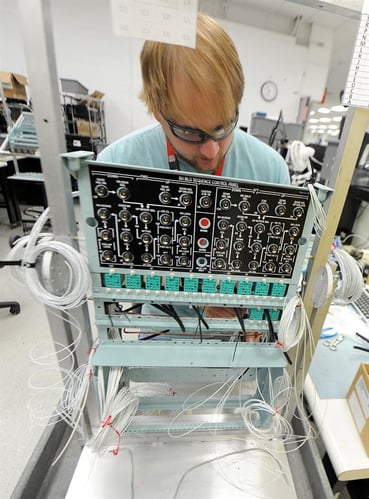 (Photo courtesy U.S. Air Force)

What's Included?
PCB box build electromechanical assembly services include:
System level assembly

Product assembly

Sub-level product assembly

Packaging & labeling

Software loading & product configuration

Aftermarket services & repair

Warehousing, order fulfillment, & traceability
To get your box build assembly off the ground, provide your electronics contract manufacturer (ECM) with the necessary information up front. This foresight can save you an arm and a leg -- not to mention a lot of time.

(Still in the design phase? Click here for a guide to making an electronics box build assembly.)


4 Ways to Be Ready
1. Bill of Materials (BOM)
This one is obvious, but it's arguably the most important.
The bill of materials, or BOM, contains critical information for the design of your electromechanical assembly, including:
Item number

Reference number

Manufacturer part number

Package

Part type

Much more
You wouldn't expect someone to build a house without blueprints, right? Well, the bill of materials acts as the blueprint for building your assembly, and it should be treated as just as significant.
An accurate, thorough BOM can get your product into production faster and with a lesser likelihood of error.


2. Dimensions
Another important tidbit of information is the size and weight of your product. Be sure to share this with your ECM, as it can affect your product's:
Shipping

Packaging

Warehousing
Do you have specific requirements for shipping and packaging? Be sure to specify those as well.
Another thing to consider: If your box build assembly is large, ask your ECM if it has the capabilities for such a project. Assets like an overhead crane can be vital to projects of formidable sizes.


3. 3D Model and Prototype
If you have 3D CAD technology, provide a 3D model to your electronics contract manufacturer so it can understand and visualize what you'd like the end product to be.
Better yet, provide a prototype unit, if you have one. If not, don't fret: Many ECMs have their own 3D CAD software to accomplish this.


4. Test Specifications
Be sure to specify any explicit testing requirements. This includes:
If not, discuss with your manufacturer which kinds of electronic testing are available. Product quality is hugely important, so you'll want to know all options available.


Other Needs, Before & After
Box build assembly can be just one of many services an all-in-one electronics manufacturing services supplier can offer. You can consolidate lead times and transportation costs by adding on:
PCB design assistance

PCB prototyping

Aftermarket services
At every step in the process, working in a close partnership with the ECM, communicating clearly, and providing all needed data & documents ASAP is never a bad idea.


(Editor's note: This article was originally published in January 2019 and was recently updated.)