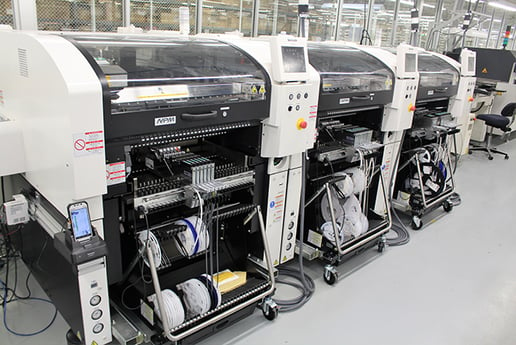 Today a growing number of original equipment manufacturers (OEMs) outsource some of their work to electronics contract manufacturers (ECMs). The ECMs are crucial partners when bringing your product to the market. However, while there are plenty of electronic manufacturing companies to choose from, not all are equal.
Selecting the ideal one can ensure a smooth manufacturing journey from design to aftermarket support. But, how will you ensure that you are partnering up with the right ECMs that you can truly put your trust in?
We've come up with a list of equipment your partner should have, plus other factors to guide your outsourcing process.
ECMs Machinery and Equipment: Things to Look for in an Electronics Manufacturing Service
Like any other tech industry, the electronic manufacturing sector is rapidly changing. Your choice of ECM service provider should ensure you benefit from these changes and remain ahead of technological curves.
The following factors will help you identify the right electronic manufacturing services (EMS) partner for your projects:


Industry Experience
Hiring a contract manufacturing company with extensive experience in the electronics industry is in your best interest. Well-established businesses have the right tools and equipment to provide high-quality work. They've also invested in skills and knowledge to operate modern and complicated machinery.


Design Capabilities
The ideal electronic manufacturing outsourcing partner should help you streamline your designs and make them as efficient and effective as possible. The right company has already invested in top-notch equipment and machinery that supports your entire design process.


Advanced Technologies
The tools, machinery, and equipment that a prospective electronics manufacturing service uses should meet modern manufacturing demands. Partner with a vendor that leverages all the latest technologies to produce highly competitive products in the marketplace. The recent introduction of smart factories and other 4th industrial revolution developments is changing the entire manufacturing process. A modern EM company should update to modern innovative equipment that has the following traits:
Automation: automation of EMS and PCB assembly process guarantee an efficient production process.
Artificial intelligence: the manufacturing process should combine machine learning and big data for optimized processes.
Cloud computing: a cloud strategy in line with your product lifecycle management.
3D printing: makes prototyping easy to produce. It also significantly reduces manufacturing time.
Data protection: the ideal EMS company partner should protect your intellectual property. A data security strategy should be a part of any sound electronics manufacturing process.


The Equipment a High-End ECM Will Have On-Site
The right ECM should continuously update equipment and services to deliver a cost-effective, on-time product to customers.
Notably, quality and speed are affected by:
Newness of equipment
Capacity (number of staff and equipment open at any given time, and what kinds of order volumes the ECM can handle)
Whether your manufacturer is a turnkey solution. Essentially, ideal ECMs have the capability to handle all needs in one stop, e.g., testing, prototyping, design assistance, aftermarket services
The following are the essential machines and equipment that a good, modern ECM should have on-site:


Surface-Mount Technology (SMT) Equipment
SMT refers to the assembly lines for PCB surface mounting and testing. Unlike traditional through-hole technology, SMT provides lower manufacturing costs, higher component density, and more straightforward and faster automation.
The main machines equipped in the SMT lines include:
Pick and place machine
Moisture control system for PC Boards
Bare board loader
Solder paste printing machine
SPI machine
Reflow Oven with at least 7 Heating Zones.
SMT un-loader
AOI machines


Turnkey Assembly Equipment
Going for a vendor that has turnkey assembly capabilities ensures you enjoy a one-step process instead of outsourcing bits and pieces of manufacturing through several vendors. A reputable turnkey ECM manufacturer boasts a streamlined process that results in a shorter production line. Turnkey assembly offers the following key benefits:
Shorter production times
Fewer errors
Cost savings


Through-Hole Assembly Equipment
PCB surfaces are getting smaller than before, and it is challenging to mount tiny components on a circuit board. To solve this problem, manufacturers can use plated through-hole technology (PTH) to mount electrical components onto the circuit board.
The prospective ECMs should have a functional plated through-hole technology assembly for mounting electrical components, such as microchips, capacitors, and resistors. During PCB fabrication, through-hole assembly offers several benefits, including simplified prototyping, exceptional physical connecting, higher repower tolerances, and component durability.
An ideal manufacturing partner has a diverse array of equipment in-house:
IPC certifi­ed hand soldering equipment
Precision component lead forming equipment
Cleaning system
Selective solder equipment


Inspection & Testing Equipment
The ideal manufacturing partner should have all the inspection and testing machinery and equipment to provide the capacity, proximity, and engineering solutions that streamline compliance testing processes.
The equipment should be specifically designed to meet testing needs related to safety, environment, energy efficiency, and performance. In a nutshell, ensure the prospective vendor has the following equipment and tools that enable testing and inspection:
Visual inspection systems
X-Ray inspection machine
Automatic optical Inspection machine
Functional testing machine
RF testing equipment
Potting equipment


Additional Equipment
Additional equipment that guarantees efficiency and better manufacturing outcomes include:
AOI Machines: Automated optical inspection, or AOI machines, provides top-notch quality control and diagnostics. AOI systems inspect PCBs for any faults detectable through visual inspection automatically.


Flying Probe Circuit Test Machines: These machines check the populated PCB for shorts, opens, and values of resistance, capacitance, and other essential qualities.


JUKI Storage System: This is a humidity-controlled component storage system that provides several intelligent storage solutions for individual SMT components. It provides manufacturers with intelligent and flexible storage solutions and the ability to oversee the fully automatic import and export of the components.


Laser Etch Machines: Laser Etch machines are used for etching, laser coding, and marking non-contact printing. It offers some benefits over other technologies, including high speed, high mark resolution, and permanence.


PCB Depaneling Systems: The PCM depaneling system removes several smaller, single PCBs from a bigger multi-PCB panel produced during manufacturing. Depaneling helps increase PCB manufacturing lines throughput as circuit board sizes decrease.


Conformal Coating Machines: These provide several benefits for electronics manufacturers at every production level. They enhance high-volume and in-line coating processing and ensure a robust line of precision applicators meet various conformal coating applications' needs.


The Right ECM Could Be the Difference
Selecting an electronics contract manufacturer for your electronics can be a tremendous undertaking. There are a dozen criteria you can use to choose an ideal partner.

However, ensuring the manufacturer has all the essential manufacturing equipment is the first step. Notably, the ever-increasing complexity of electronic assembly and miniaturization of components enhance the demand for intelligent manufacturing equipment.

If you need help choosing the

right electronic manufacturing services company

to partner with, or have any questions about machine capabilities, download our handbook.: