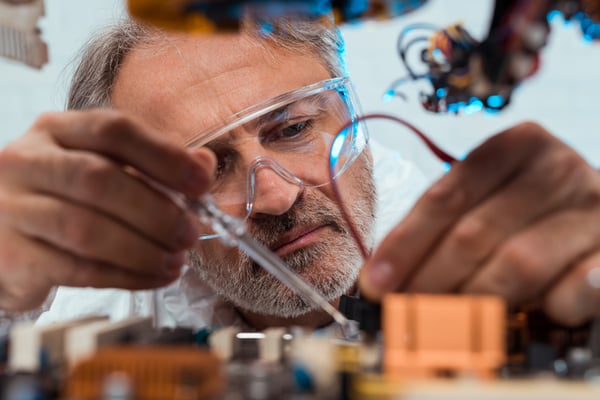 When you're looking for a PCB engineering services provider, there are, of course, multiple things to consider. "Will they be able to meet my specific needs?" is likely your first and foremost concern.
A PCB services provider should take your concept ideas or application issues and turn them into a solution using state-of-the-art technology and the skill of its electronics engineering team.
Before you decide on a PCB engineering service, take a look at this checklist to make sure that you're getting the full OEM service experience you need.


Does Your PCB Engineering Services Team Cover All 4 Bases?
A turnkey PCB manufacturing company provides at least one -- but ideally all -- of these elements of engineering:
PCB design
Mechanical design
Software design
Hardware design


Printed Circuit Board Design
As we all know, most electronics today are controlled by PCBs, so it's more important than ever to make sure your PCBs are up to speed and crafted by skilled technicians. The engineers making your PCBs should be IPC certified to ensure the safety and efficiency of your products.
Your PCB engineering service provider should also offer assembly and prototyping services. Prototyping PCB designs ensures the safety of your product and is more cost-effective than producing a large number of boards with a faulty design before realizing you've made a terrible mistake.
When designing the layout of your PCB, see if your engineering service provider has the capabilities to meet these needs:
Complete traditional printed circuit boards -- 1 to 30 layers
Micro-BGA, Micro-Vias, HDI, impedance control
Pre-layout thermal planning
Low-loss materials, metal Cores, heat plates
There are a variety of problems you might encounter in the PCB design and manufacturing process, so make sure you're aware of the common PCB layout pitfalls. If you're worried about encountering these setbacks, ask your outsourced engineering partners about the ways to avoid electromagnetic issues, slivers, plating gaps, and other defects.


Mechanical Design
PCB mechanical design is a bit different than circuit board design itself because mechanical design addresses mounting and volume constraints. More times than not, your PCBs won't be out in the open -- which is not only dangerous, but also threatens functionality. So, how do you solve that?
Well, that's where mechanical design comes in. Turnkey PCB manufacturers design custom cases and housings to not only keep PCBs safe from their environment but also keep them operating longer, more efficiently, and with reduced need for maintenance.
Much like PCB design, there are a few crucial points you need to make sure your provider offers to ensure your mechanical design needs are met. Ask about:
Conceptual designs, proposals, proof of concept
Industrial design
Controls & panel design using silicone keypads/sealed
Key switch technology
Sheet metal enclosure product design
Vendor selection assistance for prototype tooling
Reverse engineering
Legacy conversions -- 2D drawings & modeling into 3D formats


Hardware Design
Hardware design is tied into both PCB and mechanical design, and it covers the full spectrum of board creation and integration. More likely than not, your PCBs will only be a single part of a larger manufacturing operation, so hardware design ensures that your system can work seamlessly.
A contract manufacturer's hardware engineers run simulations, develop contingency plans, scope out technical and functional specifications, and test design validity and environmental safety. Among other issues, hardware design is about protecting your PCB investment, ensuring an accurate life cycle and reducing component obsolescence.
Some of the fundamental aspects of hardware design include things like:
Wireless intelligent design/antennas
Extensive RF/RFID design/Bluetooth
8/16/32/64 bit uC
High-speed digital pcb layout
Low-level analog design
Signal conditioning
DC/DC power conversion
Battery management


Software Design
And lastly, but not least, software design. PCBs are not all hardware; they also function largely because of software. Software dictates processes like
Data integrity
Deterministic machine control
Multitasking
Distributed control and communication
Proportional integral differential (PID) control
When talking to a PCB engineering service provider, it's important to ask about the coding language used for software development. C, C++, C#, Visual Studio, .NET, Visual BASIC are just a few of the languages used in software engineering for PCB design.
Along the same lines as hardware design, software design's goal is to create the most efficient, least wasteful system possible.


Deciding on a PCB Engineering Service
Ultimately, a good PCB engineering service provider offers everything from PCB layout design, turnkey prototype assembly, and mechanical design to software development.
While all of these things are important, what's most crucial is clear communication of your needs -- on both ends. If a PCB engineering service looks great on paper but has poor communication skills, it might spell trouble for your design and testing needs.
If you have any questions about engineering services or want to explore Matric's engineering solutions, feel free to drop us a line! Our OEM engineers are more than happy to discuss our suite of turnkey PCB solutions.