Massive amounts of money are at play when it comes to power distribution electronics. The electronic product development life cycle frequently sparks frustration among OEMs in this industry because parts steadily wear out and require attention to keep critical infrastructure operating.
Full-blown replacement of a product is neither cost-effective nor efficient when downtime is harmful to both OEMs and the end consumer. It's absolutely crucial that you're always thinking about the electronic component life cycle and making plans for the future.
That's where aftermarket electronics remanufacturing comes in handy.
An electronics remanufacturing company can become a major asset to your power distribution product line. These services include printed circuit board (PCB) repair services -- but certainly aren't limited to just repairs.
Here's a closer look at the variety of ways a good aftermarket electronics partner helps keep the lights on for your product line.


What Is Aftermarket Electronics Remanufacturing?
Here's how the Remanufacturing Industries Council defines its namesake:
Remanufacturing is a comprehensive and rigorous industrial process by which a previously sold, leased, used, worn, or non-functional product or part is returned to a "like-new" or "better-than-new" condition, from both a quality and performance perspective, through a controlled, reproducible, and sustainable process …"


7 Benefits of Electronics Remanufacturing for Power Distribution
To repair or to replace? That's the question for power distribution components and products. Here are the primary reasons to seek outsourced remanufacturing services:
Long-term cost savings
Avoid downtime
Versatility of services
Reduce e-waste
Avoid component shortages
Prevent future breakdowns
Find a turnkey PCB solution
Opportunities for extended product life cycle are out there for all sectors of the energy industry.
Electricity
Solar
Wind
Geothermal
Engines and electrical equipment are among the most frequently remanufactured products. Take the wind turbine industry as an example. You can use remanufacturing to prolong the effectiveness of the turbine's blade pitch controller. This not only keeps you from having to replace turbine electronics every few years -- its reduced need for maintenance eliminates downtime and turbine blade damage due to poorly controlled shutdowns.


Have questions about our remanufacturing process? Hit the "read now" button below to check out our guide detailing the benefits of working with an advanced remanufacturing company, the type of electronic services we offer, and more:
1. Cost Savings
It's much more economical to schedule PCB board repair or PCB refurbishment and rebuilds than having to replace the entire product. A skilled provider can fix or improve your board for a fraction of the cost it would take to replace it.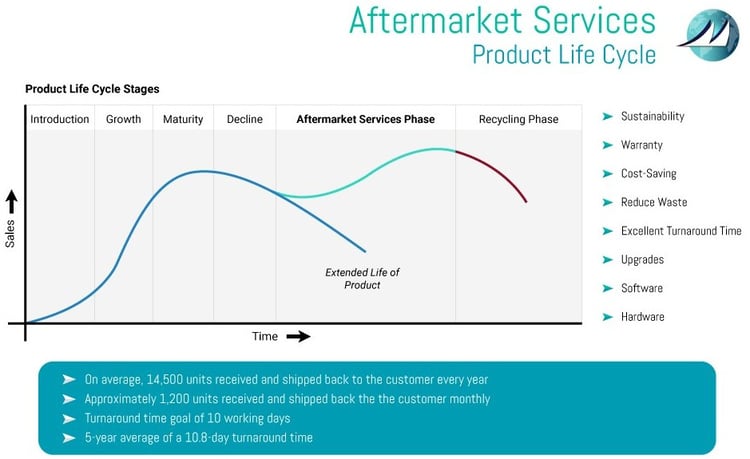 By including aftermarket electronics services in your product life cycling planning, you can spread out painful expenses vs. taking one huge hit all at once. For the energy industry, that's a more sensible way of running things.


2. Less Downtime
In addition to reducing costs, turnaround times are much faster with remanufacturing vs. replacing.
We shouldn't need to explain how much of a problem downtime is in any industry, let alone energy -- now more than ever. The difference between operational and defective energy infrastructure could mean whether houses are powered, and whether fuel is successfully extracted and refined. Any downtime could impact thousands of people.
The ideal remanufacturing partner is responsive and ready to find solutions that work around your concerns about downtime.


3. A Variety of Ways to Solve the Problem
"Remanufacturing" is not a synonym of "repair." The right aftermarket services provider can resolve even the most challenging jobs, no matter the required solution:
PCB troubleshooting
Component upgrades
Recalibration
Software/firmware/hardware improvements
PCB redesign
Cleaning and PCB testing
Field service
Other PCB repair techniques


4. e-Waste Reduction
While electronic waste only represents about 2% of all waste in landfills, it accounts for more than 70% of all toxic waste.
By repairing -- instead of replacing -- components, you're not discarding as much e-waste. Now you can market yourself as a green-minded hero to your end customer.


5. No Electronic Component Shortages
Much like the energy industry, electronics manufacturing is always advancing. Parts that once lasted a decade can become obsolete in 2 years.
An aftermarket electronics remanufacturer can manage inventory and recommend component alternatives so that what you need is available, when you need it. Properly accounting for electronic parts obsolescence management reduces the risk of time-wasting surprises when it's time to upgrade components.


6. Testing & Verification
A remanufacturer with PCB testing capabilities may be able to identify the original electronic part that failed.
In addition, once the upgrades or repairs are complete, the remanufacturer can conduct PCB testing to ensure your product goes back into the field at 100% functionality. Without proper testing, your product may end up right back in the operating room for repairs.


7. Turnkey PCB Manufacturing
Ideally, an aftermarket manufacturer can act as a one-stop shop, streamlining your transportation and communication. Reducing the number of middlemen almost always reduces costs and lead times.
A turnkey PCB services supplier can assist with more than just remanufacturing:
Component sourcing
PCB design
Electronic enclosure design
PCB assembly
PCB testing
PCB prototyping
Obsolescence management of electronic components
In other words, a remanufacturer can act as an extension of your business, letting you focus your energy somewhere else.


Think Long-Term Goals
Remanufacturing is first and foremost a cost-saving decision. But if you take your investment in power distribution remanufacturing a step further, you can get additional benefits, including an improvement in the overall quality of your product.
For more information on the types of PCB testing an aftermarket electronics remanufacturer may offer -- and their pros, cons, and required investment -- check out the free e-book below:
Interested in attending a webinar about aftermarket services?
[Editors Note: This blog was originally published in April 2020 and was updated in April 2022 to reflect current and up-to-date information.]