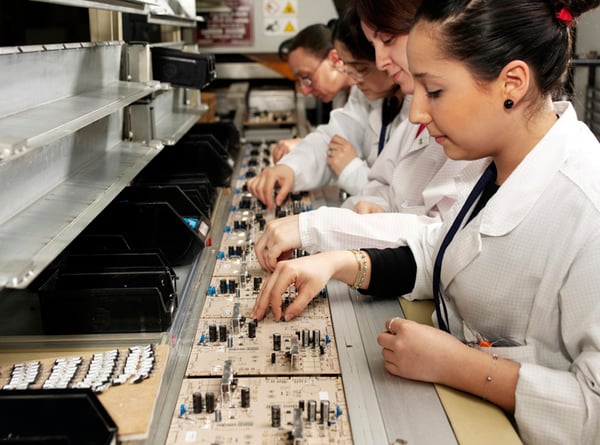 Turnkey assembly -- buzzwords or worth looking into?
Full turnkey PCB manufacturing -- where a single outsourced electronics contract manufacturer takes care of every production stage -- sounds great on paper. Instead of trying to outsource bits and pieces of manufacturing through several vendors and hoping everything comes together smoothly, you enjoy a one-stop assembly process with less lead time.
However, not all "turnkey" solutions and electronics contract manufacturers (ECMs) are created equal. The right contract electronics manufacturer will have a team with a wide variety of PCB assembly services, capabilities, and prioritize cost-efficiency and responsive communication practices.
Here's what turnkey PCB assembly should look like, as well as a few disclaimers where an all-in-one solution may not work out.


ABCs of Turnkey PCB Assembly
There are numerous stages that go into the making of PCB assemblies through turnkey manufacturing:
Sourcing parts

Design assistance

Assembly

Testing

Prototyping

Aftermarket services
PCB turnkey solutions are those that incorporate all of these stages into a single electronics contract manufacturing service. The world calls it "turnkey" because it arrives at your door ready to be turned on and used. You shouldn't need to worry about whether all the pieces will work together or that the part will not function as intended.
PCB assembly services that offer full turnkey solutions will make certain that your product does what you said it should.
Electronic manufacturing services companies that claim to offer turnkey solutions should have any and all capabilities that help your product come out correctly.


Benefits of Turnkey PCB Manufacturing
Some of turnkey's benefits are obvious, others not so much. Some of the reasons to demand turnkey solutions include:


Shorter Production Times
A reputable turnkey manufacturer will have a streamlined process that should result in cost-effective shorter production times for your assembly. Some of the ways they speed things up include:
Limited production channels. When you work with one company, your engineer doesn't need to manage contracts with multiple companies. It removes some of the stress that's inevitable when you're trying to keep in contact with multiple individuals and organizations (especially if they're overseas). It also limits the potential for incompatibilities in manufacturing equipment and software.


Sourcing components is much simpler.

For a single engineer or designer, trying to source components can be time-consuming and tedious. It also increases the likelihood of errors and compatibility issues. If you order the wrong component, you may not realize you have a problem until you try to assemble the prototype – forcing you to stop the process and go back and find a better component for your needs. A turnkey manufacturer is far less likely to run into this kind of situation because it has established relationships with component suppliers and has a team devoted to ensuring assemblies will mesh happily.




Less transportation time. Shuffling your product from one facility to another takes time. If you need a tight turnaround, you may want to consolidate services.


Fewer Errors
When you use multiple companies for PCB assembly, expect issues with communication and compatibility. (Again, this is especially true if there's a language or time zone barrier.) When communication lapses, errors are sure to follow.
With a turnkey PCB assembly team, your outsourced team has a well-established system for moving a project from Step 1 to Step 2, and so on. The design and manufacturing departments know how to work together and share crucial information.


Cost Savings
Trying to manufacture PCB assemblies piecemeal-style will lead to higher production costs. All that transportation/shipping time also isn't for free.
Turnkey manufacturers are naturally interested in efficiency and cost savings because it can attract more customers that way. In many cases, it's actually mutually beneficial if they can help you save on components, assembly, and quality control.


There Must Be a Downside, Right?
In theory, there should be virtually no downside to all-in-one manufacturing. As in most things in life and electronics, there are a few "yeah, but"s.
It's possible that if you use an unskilled or small-time turnkey PCB manufacturing company, you could wind up with low product quality or a lack of financial support with component inventory management. And if one company is taking care of the entire job, its incompetence will impact the entire job, not just one part of it.
Even if you have a capable ECM partner, it could still run into operational problems that affect your project:
Natural disasters or facility technical issues

Legal trouble

A rogue employee
These cases are few and far between, but they're still worth a mention.


Before You Turn the Key ...
What's the upshot of all this? Vet your options before you settle on an ECM. Click here for more on what the typical electronics manufacturing supplier does.
In most circumstances, you'll see more benefits than downsides from using a turnkey manufacturer.

(Editors Note: This blog was produced in December 2019 and was updated in March 2022 to reflect current information)