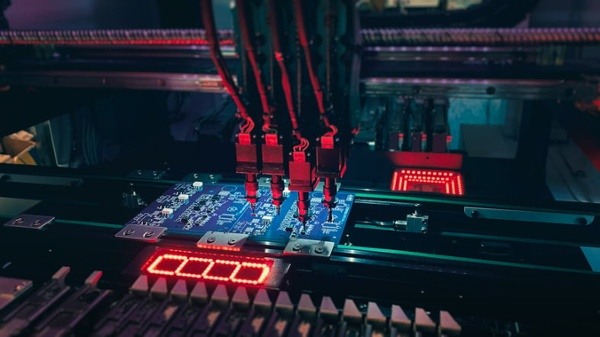 The world of PCB assembly capabilities is changing rapidly, and forecasters expect PCB manufacturing capabilities to expand for the next 10 years. The worldwide PCB market is estimated to see a compound annual growth rate of 5.6%, reaching $90.1 billion by 2025 from the current $63.9 billion in 2019.
This speedy development requires rapid changes and improvements in production processes and capabilities, as well as new fabrication plants for the semiconductors needed for construction.
The CHIPS and Science Act is a groundbreaking piece of legislation that has the potential to revolutionize the way we use technology to improve our lives. The act seeks to make the U.S. a bigger competitor in a market where, once upon a time, it started the race.
Robotics and smaller chips to provide more power to handheld electronic devices mean continuous changes in PCB fabrication capabilities. In fact, semiconductors are predicted to become a $1 trillion industry by the end of the decade.
However, what does that mean for the PCBs behind the scenes?
While PCB manufacturing companies are seeing very high demand for the PCBs needed to facilitate the production of higher-performance semiconductors, they are not being prioritized for production in their own machines. New fabrication plants have been tabbed for producing semiconductors for the automotive or electronics industries. Where does that leave the robots and other machinery needed to manufacture these semiconductors?
CHIPS and Science Act: Following the Numbers
Introduced by Sens. Chuck Schumer and Lisa Murkowski in 2021, the CHIPS and Science Act of 2022 establishes three programs designed to strengthen the U.S. semiconductor industry:
a CHIPS for America program, which will provide incentives for companies to invest in advanced chip technologies
a Science for America program, which will fund research and development into emerging technologies
an Innovation Fund, which will award grants to encourage innovation in key industries.
By providing incentives to invest in cutting-edge technologies and research, the act seeks to ensure that the United States remains competitive globally in technology advancement and PCB manufacturing capabilities.
The plan is to allocate $280 billion over the next 10 years:
$200 billion for scientific R&D and commercialization
$52 billion for semiconductor manufacturing, R&D, and workforce dev
$24 billion for chip production
$3 billion for programs for leading-edge tech and wireless supply chains
The CHIPS Act also allocates $2 billion to the U.S. Department of Defense to fund microelectronics research, fabrication, and workforce training. An additional $500 million goes to the U.S. Department of State to coordinate with foreign-government partners on semiconductor supply chain security.
In addition, $1.5 billion will support the USA Telecommunications Act of 2020, which aims to enhance the competitiveness of software and hardware supply chains of open RAN (radio access network) 5G networks.
---
Up and Running: Will New PCB Factories Make the Difference?
Semiconductor manufacturing is of growing interest -- and importance -- in the U.S. Some companies are already at work attempting to strengthen their foothold. Wolfspeed is one of them.
The new Wolfspeed Mohawk Valley Chip Fab opened in April 2022 as a $1 billion factory and the first tenant in the 450-acre Marcy Nanocenter in New York state.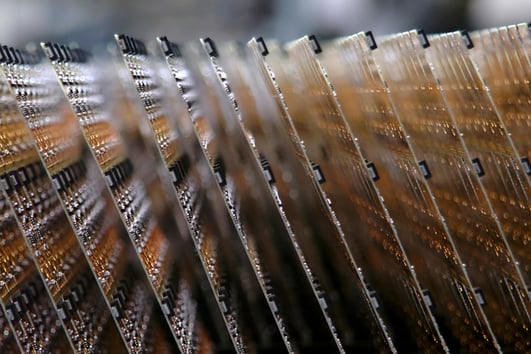 The facility is predicted to bring 600 jobs to the area and be at full capacity by 2029. Wolfspeed plans to increase its revenue to $1.5 billion by fiscal year 2024, thanks in part to the substantially larger chip output of the Mohawk Valley facility compared to Wolfspeed's North Carolina location. Semiconductors for the auto industry are the main focus of the Mohawk Valley plant. Lucid Motors has already signed a 2-year contract to use the chips in its luxury vehicles.
The planning and financing aspect of this facility has been in play for decades. The deciding factor may have been New York state offering a grant to cover half of the $500 million construction fee for the facility. (hip fabrication facilities can cost $20 billion or more for construction)
To make its chips, Wolfspeed uses silicon carbide, a semiconducting material that's especially useful for chips that power motors, like those in EVs. This silicon carbide comes in the form of translucent discs called wafers, which are delivered from the Wolfspeed plant in North Carolina.
That facility has a special furnace that gets half as hot as the surface of the sun, a heat level necessary to refine the material. Once these silicon carbide wafers are delivered to Wolfspeed's facility in Marcy, they're sent to a manufacturing floor, where a small army of robots slowly transforms them into sheets of chips.
---
New Era for US Chips?
Building a single fabrication plant can be a significant challenge. Therefore, the goal of building several on a truncated timeline will be even more impressive if successful.
The Biden administration has set a goal of investing $52 billion -- with the help of state governments -- in the construction of more factories like the new Wolfspeed plant in New York state.
Hopes are high that a new electronics manufacturing revolution will be sparked, bringing computer chip production back to where it was born. However, those hopes may not fully consider the fact that current technology is advanced because it has been produced internationally by a chain of companies. Thousands of companies, in fact, contribute to the supply chain that keeps technology moving forward.
The competition remains high, as well, since Taiwan is also attempting to ramp up semiconductor production. Taiwanese chipmaker TSMC, which is currently responsible for 92% of the most advanced semiconductors in production, is winning the race to make the smallest transistors. The chips made by TSMC have transistors less than 10 nanometers wide.
Semiconductor Manufacturing and Fabrication Plant Construction
Both the process of PCB manufacturing and semiconductor manufacturing have to be handled carefully -- which means involving more automation and more costs for building construction and line setup. A semiconductor chip manufacturing process that relies on robots requires a clean room to avoid any contamination.
A particularly important part of the production process is lithography, where tiny patterns are printed into the chips. Another step where robots are key to success is deposition, where layers of metals are added to silicon carbide.
Both of these processes are dependent on semiconductor manufacturing automation to minimize human contact with the sensitive components. While these steps are carefully monitored by people outside the clean room, there's no direct human involvement.
Construction Costs & Site Requirements
The construction of a facility to manufacture semiconductors requires strategy and financial backing sufficient to see the process through to completion. The cost of construction for a fabrication plant can range from $1 billion to $20+ billion -- depending on the intricacy of the chips.
First, the location of a fabrication plant has to meet several crucial requirements:
Close to a reliable source of electricity
Near a large body of water
Ideally, NOT be near airports or fault lines, as the regular vibration can disrupt machinery precision.
The plant will also produce carbon emissions and wastewater, making it a facility best constructed away from communities.
There are also constant supply chain concerns. Chip production can sometimes require as many as 1,000 steps and components that cross 70 country borders. A single disruption can delay release because there are typically no alternatives.
When it comes to the specialized supplies needed for chip fabrication, options are also limited. Semiconductor equipment manufacturers are specialized and at times form a monopoly on the market simply due to the complex capabilities necessary. Only one company in the Netherlands makes the specialized lithography tools needed. Meanwhile, two firms in Ukraine provide neon gas, another essential part of the process.
US Companies Are Taking the Push to Invest Seriously
Despite the jaw-dropping price associated with the construction of these plants, Wolfspeed isn't the only company committing to moving U.S. production forward.
Texas Instruments is pledging as much as $30 billion in the construction of fabrication plants. The company announced in May 2022 it broke ground on the first of four proposed fabrication plants in the Sherman, Texas area. The plan is for production to begin in the first two by 2025. Both will manufacture semiconductors for use in electronics.
TI is also set to build a new fab plant near its current Lehi, Utah, location. The investment in Utah is projected to be $11 billion, with the new facility intended to complement the facility already in that location. Production for the combined facility is slated to begin in 2026.
Educational institutions are watching the trend and predicting the areas most likely to incorporate a fab plant into the economy.
Ball State's Center for Business and Economic Research recently published a study that divides locations in the U.S. into three tiers and predicts the likelihood of fabrication plant construction in those areas. Tier 1 includes the locations that are considered most likely to host a fabrication plant, including but not limited to:
Chicago
Dallas-Fort Worth
San Diego, Calif.
Seattle, Wash.
St. Louis, Mo.
Of the 20 locations where fab plants are already set to start construction, 18 were predicted by the factors evaluated in the study.
Technology Primed for Renaissance, U.S. Follow-Through up in the Air
Semiconductors and PCBs for the fluid world of technology will remain in high demand without increasing supply for quite some time. Predictions for new plants are aplenty, but the feasibility of such significant projects decreases the likelihood of fulfillment.
Plan Ahead to Maximize PCB Manufacturing Capabilities
With demand set to increase and the viability of massive construction efforts for fabrication plants questionable, it pays to think ahead for new projects and regulations. PCB manufacturing companies – and their OEM partners – need to watch for not only opportunity but also potential issues with component obsoletion. PCB testing will continue to present unique challenges in 2023, consider our free resource to assist you in handling these issues: