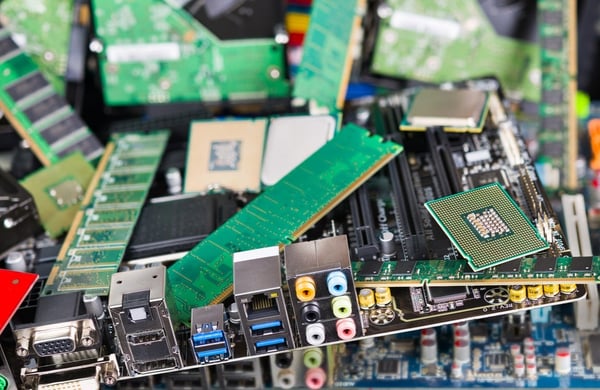 Plastic waste may snag all of the headlines, but it's not the only type of waste overwhelming landfills and contaminating soil and water.
E-waste, or any material with electronics in it, is another emerging problem. Estimates say up to 50 million tons of electronics are discarded each year -- and if current trends continue, the annual amount of e-waste could increase to 120 million tons annually.
One of the key electronics components that makes up a significant portion of e-waste is the printed circuit board, or PCB.
Unfortunately, rather than recognize the high success rate of PCB repair techniques, manufacturers often discard the components when they fail or reach the end of their life. This is obviously a key contributor to e-waste.
We know that PCB repair services are more environmentally friendly than discarding these components, but what other impacts can PCB repairs have on your company?


PCB Repair Services Explained
"Repair versus replace?" comes up when part of an electronics assembly is faced with obsolescence. While consumer electronics technology is being one-upped practically every year, in many other industries the guts of an electronic device need to survive 10 years or more.
Even the best PCB designs won't last forever. And if they fail prematurely, it can be much more economical to have PCB board repair performed rather than shell out exorbitant amounts of money for a system redesign.
A good aftermarket electronics provider can provide PCB troubleshooting and repair services with quality, effective parts to restore PCBs to like-new condition.
As a bonus, refurbishing or repairing your PCBs can save you about 70% of what it would cost to rebuild a product from scratch. Saving the planet and saving money -- what's not to love?


E-Waste and the Bottom Line
While repairing or refurbishing your PCBs is ideal, sometimes they are damaged beyond repair and the only option is to throw them out. But wait -- before you kick your burned-out PCBs to the curb, have you considered e-waste recycling?
The hazards of e-waste are well documented, especially from PCBs, which are fabricated from a mixture of metallic and non-metallic parts that can contaminate soil and water. But e-waste recycling breaks down some of those components to be used in the manufacture of new PCBs.
But how much does it cost to recycle e-waste? Well, that's the only drawback. In many cases, it can be more affordable to purchase a new product from virgin materials than to recycle e-waste. As a result, it's estimated that only about 20% of all e-waste is currently recycled. Even in those cases, you may want to e-recycle so you can market yourself as a "green" company.


What Can Electronics Manufacturing Companies Do to Fix Your Product?
Aside from PCB refurbishment and repair recycling e-waste, there are a few other strategies that companies can use to lessen their environmental footprint:


1. Emphasize Design
It's never fun to watch a product fail prematurely, which is why design materials and manufacturability should be emphasized throughout the product development process. Relying on a contractor with a design team when repairing or replacing parts will also keep you from making the same mistake twice..
If a component fails once, you certainly don't want to run into the same issue down the road.


2. Create a Budget
Whether you're dealing with a flat tire on your car or broken PCBs, unexpected blips on your budget radar are scary. By anticipating obsolescence and other issues early, you can keep company finances on track.
Work a cushion fund into your budget so that repairs or recycling costs aren't draining your profits. In a perfect world, our electronics would last forever, but we all know that's not how life works. Being prepared and planning for the inevitable will help you stay ahead of the game.


Work With the Right Partners
Who are you working with for electronics parts sourcing and PCB manufacturing? Make sure you're working with credible companies that aren't supplying you with parts that are:
Outdated
Counterfeit
Poorly made
A good partner should become an extension of your business, from obsolescence management all the way to engineering solutions. If they use top-notch, third-party component management software like SiliconExpert, all the better. Through this software, the contractor can easily keep you informed of component manufacturer changes or last-time buy opportunities.


Repair, Refurbish, Recycle
Before you ditch your old electronics, consult with an electronic manufacturing services provider to make sure your systems are really beyond repair. Throwing away PCBs that can be brought back to life by a skilled team adds harmful e-waste to the environment and hurts your bottom lines.
To help you source the right components, you can also grab the free capacitor and resistor sizing charts below: