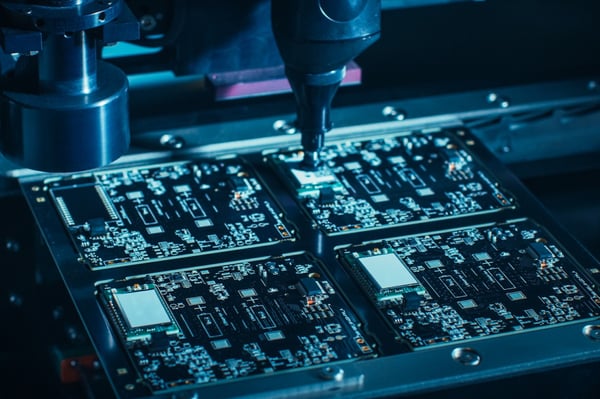 When turned on, electrical equipment generates sparks. Some equipment generates heat that can lead to ignition, while electric arcing occurs between gaps in electrodes.
In ordinary environments, these sparks are no threat to the people using the equipment. However, in areas filled with explosive gases and dust, these sparks can be a serious hazard. Under these circumstances, electrical equipment can only be used if special safety measures are put in place.
Electrical devices that are safe to use in hazardous, potentially explosive environments are called intrinsically safe. These devices are made using different methods, including explosion-proof, flame-proof, or intrinsic safety. .
To make intrinsically safe components, electronics manufacturers must:
Abide by intrinsically safe design guidelines

Know the consequences of unsafe PCBs (printed circuit boards)

Test their PCBs for both safety and quality control
Here's everything you need to know about intrinsically safe electrical device manufacturing.

What Does Intrinsically Safe Mean?
Intrinsically safe products are explosion-proof because they limit the energy available, preventing ignition. Essentially, they're spark-proof. Intrinsically safe equipment in mines and petrochemical refineries are a necessity to protect both the employees and the community.
Several different agencies maintain the standards for intrinsic safety, like Underwriters Laboratories. Intrinsically safe design guidelines are strict, as they should be.
A good starting point for meeting intrinsically safe guidelines is to first check and make sure the product also meets RoHs compliance standards and IPC-6011 standards.


What Are the Consequences of an Unsafe PCB?
If an unsafe PCB is used in a hazardous environment, gases, fibers, fillings, vapors and dust in the air may ignite, potentially leading to explosions, injuries, and deaths.
There are many environments where unsafe PCBs can't be used, including:
Chemical manufacturing

Oil and gas production and refining

Storage and transportation

Sewage treatment

Pharmaceutical manufacturing

Cosmetics and food production
In all of these environments and more, unsafe PCBs can cause catastrophic accidents. Abiding by intrinsically safe design guidelines will lessen workplace danger.


What Should Electronics Manufacturers Do to Meet Intrinsically Safe Design Guidelines?
Generally speaking, the best way to produce an intrinsically safe product is to follow intrinsically safe guidelines from an agency like UL, MSHA, ATEX, and others. There are many things that engineers can proactively do to comply with intrinsic safety standards and improve the safety of their designs. Below are a few methods that electronics OEMs use to ensure their products are safe.


Limit Power
Try splitting the power in a device into multiple circuits. This enables the electronics manufacturer to maximize the amount of power in an electrical device without putting too much power in a single circuit.


Consider Voltage-Enhancing Circuits
Enhanced voltage levels must be protected with voltage limiters. If not, the PCB may spark, running the risk of ignition.


Choose Batteries Carefully
When choosing batteries, like high-density, lithium-ion batteries, make sure they can withstand the conditions of their end-use environment. In addition, it's important to minimize the electrolyte leakage that occurs when a severe short-circuit occurs.
Avoid Sealant Defects
Components that run the risk of creating heat or sparks, such as fuses, need to be covered in a sealant, usually room temperature vulcanizing silicone (RTV). Sometimes, when coating a component, little pinholes or cavities can appear in the RTV, which need to be corrected to ensure a fire-safe design.
Utilize Protective Components
The enclosures engineers choose for their electronic equipment goes a long way toward protecting their PCBs. The proper design and material prevents the electrical circuit from exposure to flammable environments.


Putting Trust in Your EMS for Intrinsically Safe Electrical Equipment
Intrinsically safe products must pass stringent qualification guidelines, which can be a lot to manage. Partnering with an experienced EMS can lessen the impact when it comes to intrinsically safe design guidelines.
Another important aspect of manufacturing PCBs that are up to code is testing. It's better to test twice, sell once rather than have faulty components come back. Learn more about PCB testing with our free downloadable guide.