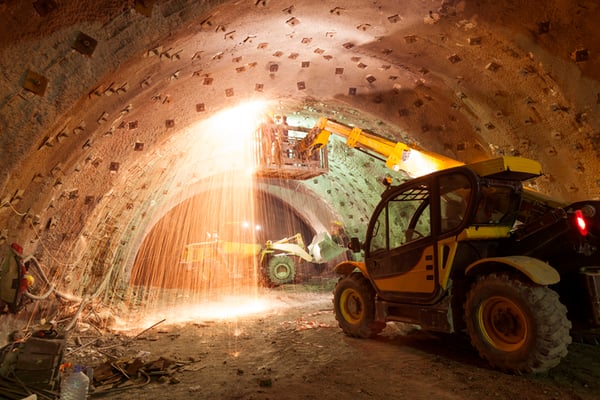 Just about any piece of electronics can be dangerous when they're manufactured poorly. But when you're manufacturing for the mining industry, you're in especially big trouble if your product is a liability in the field.
Mining electronics manufacturing gone wrong can result in:
Injury or death to the end-user
A crackdown on your product by government regulators
A ruined reputation for your company
Like many other high-risk industries, there's a regulating body that makes sure everything's on the up and up. Understanding the Mine Safety and Health Administration (MSHA) regulations that apply to your product is a necessity so you can design safe, legal electronics for your target market.


Mine Safety and Health Administration Regulations
Mine Safety and Health Administration regulations protect workers in the mining industry and cover far more than just the electronics they use. According to the U.S. Department of Labor, "... MSHA helps to reduce deaths, injuries, and illnesses in the nation's mines with a variety of activities and programs."
MHSA is responsible for enforcing the Federal Mine Safety and Health Act of 1977, which was amended in 2006 with the MINER Act. There are many different regulations and rulemaking documents that fall under the umbrella of the Mine Act – all of which MHSA oversees and enforces throughout the country.
MSHA and the European Union's ATEX regulations are about the same, but ATEX also requires achieving a CE mark. MSHA only looks at products from an "is it ok for mining?" approach. MSHA ensures a product won't cause a mine collapse if it blows up, but can't guarantee a device won't cause you to develop cancer in 30 years. Those electronics-specific issues are covered by other regulations.
Catch-All MSHA Standards for Global Distribution
If you manufacture medical instruments, you need to meet FDA standards. Consider MSHA electrical regulations the mining equivalent of the FDA. The MSHA electrical certification requirements can be just as rigorous as the FDA when it comes to designing intrinsically safe equipment for hazardous environments.
If you manufacture IPC Class 3 electronics, you have to meet stringent standards to ensure "high reliability." Class 3 products are found throughout the mining industry, though some mining equipment falls under the less-strict Class 2 electronics category.
Any company selling products to the U.S. market needs to meet MSHA standards, even if the actual manufacturing takes place in another country.
Many electronics makers design to Mine Safety and Health Administration regulations as a standard practice. The logic is that if your product meets MSHA standards, it's also likely to meet the standards of other regulatory bodies in different countries. That way, you don't have to build multiple versions of the same product to meet multiple sets of standards.


What Are the MSHA Regulations You Need to Meet?
The standards of MSHA for electronics vary depending on the product and where and how it will be used. Mines are challenging work environments that are almost always dangerous, even with tons of progress in technology the last 25 years. The main hazard is the possibility of methane gas being released during the mining operation.
Two of the most common approval methods of MSHA electronics regulations are:
Explosion-proof: An explosion-proof product must be capable of containing any damage within its enclosure.
Intrinsically safe: Intrinsically safe electronics limit the electrical or thermal energy available for ignition, so they won't cause an explosion if they fail.


| | | |
| --- | --- | --- |
| | 2019 Penalties | 2019 Penalties |
| 104(a) Regular Assessment | $135 -$72,620 | $137 – $73,901 |
| Flagrant Violations | $266,275 (maximum) | $270,972 (maximum) |
| 104(d)(2) Unwarrantable Failure Withdrawal Order | $4,840 (minimum) | $4,925 (minimum) |
| 104(b) Failure to Correct | $7,867 (maximum) | $8,006 (maximum) |
What Are the Penalties for Not Meeting MSHA Regulations?
There are significant financial penalties for violating MSHA standards. A 2020 update to the penalties increased the biggest penalty for "flagrant violations" to a maximum of $270,972. Consider "flagrant" to be code for "not worth it."
Fines for lesser violations are more manageable, but avoiding any violations and the damage to your company's reputation is always in your best interest.
Both supplier and OEM can be held liable for violations, depending on the circumstances. If you contract with an electronics manufacturer and it doesn't build your product to the standard you specified, that manufacturer is in big trouble. The same would be true if your supplier substituted components without your blessing or did anything else outside your directions and the product failed in the field.
Of course, if you deliberately created a design you knew wouldn't meet MSHA standards and sold it to customers in the mining industry, you would be liable.
Simply put, it's foolish to mess around with MSHA.


Record Keeping: Extremely Important for MSHA Standards
When designing for MSHA standards, it's key to work with a contract electronics manufacturer that understands the rules and regs.
You'll want a contractor that keeps spotless records so that all parties can prove that the product meets regulations. If issues with your product come up in the field, MSHA will come to the contractor's facility and look at its records. Inspectors will make sure that the circuit boards and everything else was built to safe specifications before clearing your contractor's name (and therefore your own, too).
The MSHA record retention period requirement must meet or exceed the expected shelf life and service life of the product. A contractor with experience building to MSHA standards will keep records for as long as 15-20 years -- basically, as long as the equipment will be in the field.


Lead Time
If you're planning a revision or new model for your mining equipment, make sure you factor in the lead time for MSHA certification to ensure your product hits the market on time. You're looking at 6-12 months of waiting in most cases.
Working with an electronics contract manufacturer with a history of meeting mining safety regulations will speed up the design and manufacturing processes.


Other Regs
For more advice on designing a safe and compliant electronic product, check out the free e-book below. It covers a range of electronics manufacturing standards for the U.S. and Europe:
[Editors Note: This blog was published in January 2020 and was updated in April 2022 to reflect current and up-to-date information]