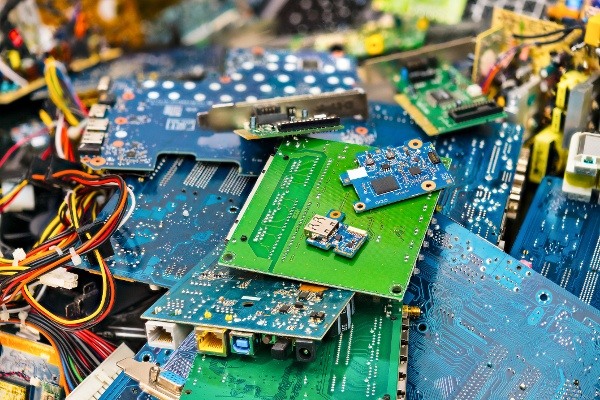 Electronic component shortages have been a hindrance on a booming electronics marketplace throughout 2018, 2019, and into 2020. While new orders roll in and production remains steady, there simply haven't been enough capacitors, resistors and other parts to go around.
With the addition of tariffs on imported Chinese goods introduced, most contract manufacturers are racing to understand what's ahead for their already-constrained supply chain.

Electronic Component Shortages Aren't Going Away
"Lead times remain elevated across a number of components, including capacitors, resistors, memory and certain discretes, according to our analysis of distribution data," investment firm Stifel reported in a recent industry forecast. "We continue to see signs of double ordering as customers scramble for parts. The multilayer ceramic capacitor (MLCC) shortage is the most severe, with many parts seeing order-rescheduling requests from customers waiting on MLCCs or other parts."
The consensus across the industry is that lead times won't subside in Q4 of 2018. A poll by Stifel found that 49% of capacitors and 35% of resistors were considered "highly constrained."
"In some cases, suppliers aren't even quoting lead times and instead are placing customers on allocation," according to Stifel. "Pricing is also going up. We have heard of some OEMs getting allocation on a weekly basis, forcing them to reschedule production runs when they can't get enough supply." Other component lead times continue to rise as well, including integrated circuits and some connectors.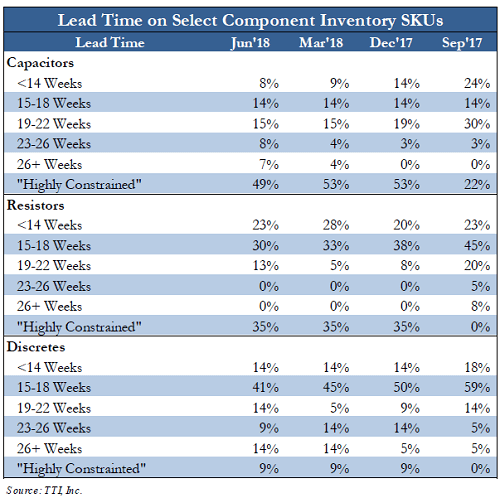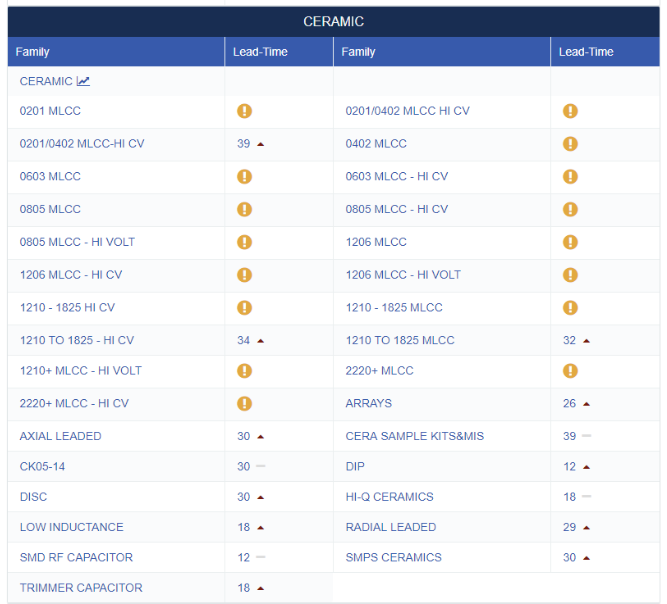 Lead Times for MLCCs have dramatically risen in 2018 and continue to do so. Parts labeled with an (!) currently have "rapidly increasing" lead times (via TTI)
Known Constrained MLCC Parts and Suppliers
(Via TTI)
AVX:
Commercial and Automotive ceramic capacitors
Select values in 0201 through 1812 case sizes
Low CV and High CV in X5R, X7R, X7S and Y5V dielectrics


KEMET:
Commercial, Flexible Termination and Automotive ceramic capacitors
Series Cxxxx, select values in 0201 through 2220 case sizes
Low CV, High CV and High Voltage, all dielectrics


Murata:
GR* and ZR* Series Monolithic Ceramic Capacitors
Select values in 0402, 0603, 0805 and 1206 and up case sizes
R, X5R, X7R, X7S and X6S dielectrics
Capacitance values ≥1uF and voltage less than 100V
Commercial and Automotive ceramic capacitors
GC*, GRM and ZR series
Select values in 0201 – 1825 case sizes
Low CV and High CV all dielectrics


TDK:
Commercial and Automotive Ceramic Capacitors
Series Cxxxx and CGA
Select values in 0201 – 2220 case sizes
Low CV and High CV in all dielectrics


Yageo:
Commercial Ceramic Capacitors
Series CCxxxx
Select values in 0201 – 2220 case sizes
Low CV and High CV in C0G, X5R, X7R and Y5V dielectrics
2020 & Beyond
The end isn't in sight – current lead time issues are expected to continue into at least 2020 and possibly further – but you can still put your company into a position to succeed by knowing what's happening and planning accordingly.
Make sure to speak with your supply chain to fully understand what they're dealing with, and remember to be patient – everyone is in the same boat, and we're simply riding out the storm.

Editor's Note: This blog post was originally published on September 13, 2018 and was updated on January 27, 2020 to reflect updates in content and insight.