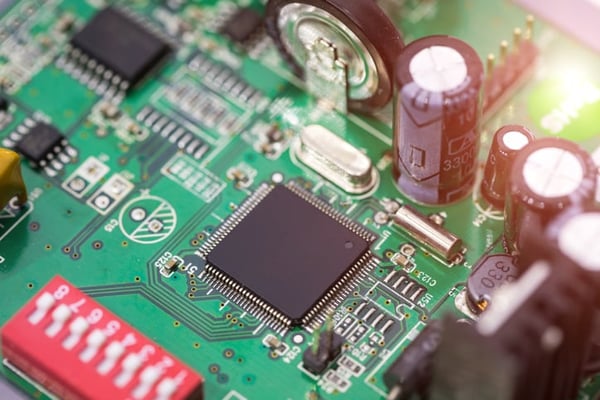 PCB (printed circuit board) costs are a concern for any electronics designers or manufacturers -- both the materials that go into PCBs and the expertise required to make them safe and reliable.
But sometimes, even just out of habit, engineers send orders and spec sheets that are not optimized to save costs. Or maybe the opposite is true -- they need a super-intricate design, and their purchasing department is outraged about the final cost.
The following PCB assembly cost breakdown will give you a fair and honest overview of how expenses rack up throughout assembly and production. Once you understand these factors, you and a contract manufacturing partner can tweak each element during the design process to minimize the financial impact.


8 Factors in Your PCB Assembly Cost Breakdown
1. Board Size & Number of Layers
The fact that a bigger board is going to cost more is probably obvious. But you also want to make sure the design fits on the panel sizes correctly.
Bare board houses use a wide range of substrate material sizes -- anywhere from 14x18 in. all the way up to 24x30 in. Most PCB manufacturers, including Streamline, use 16x18, 18x21, and 18x24. Streamline Circuits exceeds the standard by offering 21x24 and 24x30 for applications ranging from large boards to long flex PCBs. The usable area for an 18x24 size panel will be 16x22.
To minimize wasting board material, use the entire space. If you only use a section of the board, you're basically lighting money on fire.
A higher number of copper layers also raises your PCB production cost. You're limited to some extent here with how much you can save, because complex PCB designs require numerous connections between resistors and other components. These types of complex designs often require multiple-layer assemblies that require up-down connection configurations.


2. Board & Component Material
When you need specific board properties, like a high TG, thermal rating, low dielectric constant, or fireproof components, expect to pay more for your board and component materials.
Fortunately, you can give your contractor some flexibility to reduce PCB fabrication costs here. Simply tell your electronics contract manufacturer (ECM) on your bill of materials that it has the go-ahead to use alternate brands of PCB materials with similar traits.
This inclusion of flexibility into the design should apply down to the component. You can put "equal or better" on the bill of materials so contractors can use the inventory they have in stock rather than scrambling for your exact part. Putting this language on your order prevents the ECM from having to buy one part for one assembly rather than relying on bulk-purchase discounts.


3. SMT Vs. Through-Hole
Surface mount technology (SMT) is automated in most modern electronics manufacturing facilities. Not surprisingly, this makes a custom PCB board cost lower on average, at least in terms of labor.
Through-hole technology is still done through old-school hand placement. It's still sometimes necessary for connections that are under excessive stress, such as power connections, but for the most part, SMT has replaced it. You want fewer through-hole processes in your manufacturing process -- they drive up your custom PCB design cost.


4. Design Complexity
Try to minimize the complexity of your PCB layout -- extra work on the manufacturer's end to achieve your vision is going to drive up costs. For example, if you can design your assembly so all parts are on the same side of the board, you won't pay to have it run through the surface-mount process twice.
In other cases, your design demands complexity.
Some design aspects, like ball grid arrays (BGAs), require extra inspection. Others, like conformal coating, add an assembly step. The coating keeps dust and vibration out of mining and medical devices, so it's a necessary -- but costly -- evil.


5. Meeting Standards & Certifications
Standards and certifications are a long-term investment that requires regular upkeep.
Companies that make IPC Class 3 electronics for the medical and aerospace industries require much of their contractor. The high-risk nature of these projects usually mean the ECM is on the hook for:
Lot tracking
Years, even decades, of record keeping
Up-to-date compliance in AS9100 or ISO 13485 standards
There's a reason some manufacturers don't keep up with ISO standards -- it's expensive to maintain certification.


6. Order Volume and Setup Time
Most companies will discount your order if the volume is high enough.
The contractor's logic is that setup time is reduced when it has to switch between fewer jobs on a given day or week. If you need 500 assemblies in a year, it's best to order them all at once rather than asking for 50 assemblies on 10 different occasions.


7. Lead Time
Much like with the USPS, expedited orders are more expensive. The less time you give your ECM or bare board house to do its thing, the more it will charge. A quick turnaround time will likely force the manufacturer to source materials from the United States instead of overseas. Unfortunately, we all know stateside products cost more than their Chinese counterparts.
Lead time also ties in with component choice. Specifying only components that are in stock can make a short turnaround time less painful for your contractor.


8. Other Complementary Services
Of course you want to know how much PCB design services cost … but what about the other steps in production? Does your ECM even have other steps?
Take a hard look at the other services you might need, such as:
PCB design assistance
PCB testing -- costs vary wildly by test
PCB prototyping
Electronics aftermarket services/remanufacturing
Each additional service adds to the final cost of your order. Getting all the services you need at one stop will consolidate transportation costs and save lead time.


The Easy Route
PCB assembly services are priced by volume and delivery needs, how much design help you require from the ECM, and what your performance expectations are for the board.
The easiest way to streamline your electronics manufacturing costs is to work with a turnkey PCB manufacturer with proven experience in your industry. Then not only will you reduce delivery costs and communication breakdowns, you'll also have a partner with proper certifications in place.