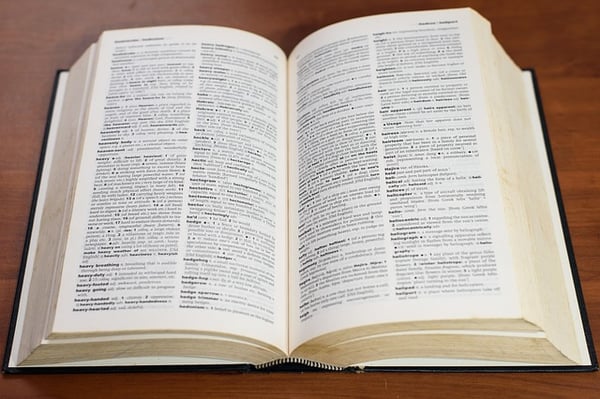 When talking with salespeople, design engineers, and other contacts within an electronic contract manufacturer, you may hear a lot of terms thrown about. Many of them -- often turned into acronyms are said with the assumption that you know what they mean.
For engineers and especially purchasers, this can be a pain -- especially if you're trying to read design recommendations, testing results, or that quote you requested.
So, we've compiled an electronics glossary below. It's filled with terms you might come across when you need electronics contract manufacturing.


Glossary for WORKING With an Electronics Contract Manufacturer
ABCs of Electronics Manufacturing


TERM
DEFINITION

A

AOI

Automated Optical Inspection. Technique enabling fast, accurate inspection of electronic assemblies.

A

ASCII File

Simple, text-based file format. Great for communicating design information for manufacturing a PCB.

B

BGA

Ball-Grid Array. Integrated Circuit package that uses the underside of the chip for connectivity, providing a high-density connection.

B

BOM

Bill of Materials. A list of the raw materials, assemblies, components, and quantities of each needed to manufacture a project.

B

BTC

Bottom termination component. Components where the leads are flat against the board and completely hidden from view. Located on the bottom so they can mate to the circuit board.

B

Burn-in Testing

Electrically stressing a device at an elevated temperature, usually over a long period of time, to root out defects.

C

Capacitor

A PCB component used to store an electric charge.

D

DFM

Design For Manufacturing. Process of designing products with optimum manufacturing efficiency in mind -- in terms of time, money, and quality.

D

DFT

Design For Testability. Design with testability features included, allowing for easier application of manufacturing tests to the PCB assembly. Validates test plans.

D

Destructive Testing

Testing performed until assembly failure to determine potential faults.

D

DNP

Do Not Populate. May be on the Bill of Materials for components/reference designators that will not get placed on the PCB during assembly.

E

EMS

Electronics Manufacturing Services. EMS design, manufacturing, testing, distribution, and provide repair for electronic components for OEMs. Often provided by a contracted company.

E

ECN

Engineering Change Notice. A document communicating a change in the design of a product.

E

EOL

End of Life. When a product becomes obsolete or otherwise not worth producing, and a vendor stops marketing or selling it.

E

ESD

Electrostatic Discharge. A sudden discharge of electric current between two objects with different charges and numbers of electrons. Can damage your electronic products.

F

Flying Probe

A cost-effective technique of product verification. Utilizes probes that move across the board using an automatically operated two-axis system.

F

FAA

First Article Approval. When a design has undergone First Article Inspection and received approval to move into a new development stage.

F

FAI

First Article Inspection.

A verification process that documents and certifies the accuracy of each and every facet of your product

F

FR4

This flame-resistant rating is present in the most commonly used PCB material. It's a composite made of woven fiberglass and epoxy resin.

F

FTB

First Time Build. An initial build of a design for the purposes of a first article inspection.

G

Gerber File

Design files for PCB creation. A commonly used file format for communicating design information for manufacturing a PCB.

H

HA

Hand Assembly. A form of assembly completed by hand when automated electronic methods aren't the best option.

H

HDI

High Density Interconnect. A form of connection between layers that accommodate for high input/output density of advanced packages in PCBs and substrates. Microvias interconnect the layers.

H

HiPot Test

High Potential Test. Used to verify electrical insulation of cables, PCBs and wired harnesses.

H

HS

Hand Solder. The soldering of a wire or component manually. This includes use of a soldering iron or gun.

I

IC

Integrated Circuit. An electronic circuit formed on a small piece of semiconductor. Allows for easy mass production of small components and faster operation at a low price.

I

IEC

Integrated Circuit. An electronic circuit formed on a small piece of semiconductor. Allows for easy mass production of small components and faster operation at a low price.

I

In-Circuit Test

Used to measure all components of an assembly to detect defects.

I

IPC

Institute for Printed Circuits. A trade association that provides global standards for acceptability in the electronics industry with the goal of standardizing assembly and production requirements.

I

IPC Class 2

Institute for Printed Circuits Class 2 standard. A type of workmanship standard for building electronic assemblies defined by the IPC. Includes products for which continued performance and extended life is required, but would not cause failures if it did not provide uninterrupted service.

I

IPC Class 3

Institute for Printed Circuits Class 3 standard. A workmanship standard for building electronic assemblies defined by the IPC. More stringent than Class 2. Requires high performance on-demand in potentially harsh or life-threatening situations.

I

IS

Intrinsic Safety. Protection techniques for safe operation of electronic equipment in dangerous areas by limiting the energy available for ignition.

I

ISO 13485

International Organization for Standardization medical certification. Mandates for a comprehensive quality management system for the design and manufacturing of medical devices.

I

ISO 9001

International Organization for Standardization quality management certification. A certification for quality-management systems. Demonstrates a company's ability to consistently provide services that meet both customer needs and regulations.

I

ITAR

International Traffic in Arms Regulation. Controls imports and exports of defense-related articles on the United States Munitions list to ensure the technology doesn't reach the wrong hands. Any manufacturer, broker, or exporter of defense services and related data must be ITAR-compliant.

J

J-Standard

IPC certification covering materials, methods and verification criteria for producing high-quality soldered interconnections.

K

Known Good Board

A "gold standard" used to compare the boards you're building to. This ensures the test is actually functional.

L

LTB

Last Time Buy. The final date a supplier will ship a product out before it stops manufacturing it.

M

M2M

Machine To Machine. Any form of technology that allows direct communication between devices using any communications channel, whether wired or wireless.

M

MDA

Manufacturer Defect Analysis. A straightforward test to reveal manufacturing defects.

N

NPI

New Product Introduction. Launch of a new product to the market. Includes design, testing, manufacturing, and analysis.

N

NRE

Non-Recurring Engineering. One-time costs associated with engineering work at the beginning of production.

N

NCNR

Non-Cancellable Non-Returnable. A purchase order that cannot be returned to a supplier in the wake of a reduction in demand.

O

OEM

Original Equipment Manufacturer. OEMs resell another company's product or component under their own name and branding.

P

PCB

Printed Circuit Board. A board with lines and pads that connect various points. Mechanically supports and electrically connects electronic components.

P

PCB Array

Multiple copies of the same printed circuit in a matrix. Combining multiple copies of a single PCB creates a larger array of connected boards and makes the manufacturing processes easier.

P

PCBA

Printed Circuit Board Assembly. The process of populating a bare board with electronic components via soldering.

P

PFMEA

Process Failure Mode Effects Analysis. Looks at each process step to identify risks and possible errors in manufacturing. Investigates man, method, material, machinery, and environment.

P

PRP

Product Realization Process. Development process used throughout the lifecycle of a product. Guides planning, tracking, requirements, design, verification, document control, production, & more.

Q

Quality Management System

A set of policies and procedures that defines efforts within an organization to meet customer requirements and continually improve its system

R

Resistor

A passive, two-terminal PCB component that employs electrical resistance as a circuit element.

R

RMA

Return Material Authorization. An agreement between customer and supplier allowing the customer to return goods for a refund during the warranty period.

R

RoHS

Restriction of Hazardous Substances. Restricts the use of specific hazardous materials, including lead, during assembly of electronic products

S

Schematic Technical Drawing

A technical drawing with symbols that details connections between PCB components. Providing clarification to the vendor trying to understanding the build.

S

SMT

Surface Mount Technology. Production method of placing components directly to the surface of PCBs

S

Solder Stencil

A piece of stainless in a frame with apertures that mount the surface mount pads. They are matched inversely, then solder paste is applied.

S

SPI

Solder Paste Inspection. Checks the solder paste deposits on the PCB. Can reduce defects related to improper solder paste printing.

S

SSM

Selective Solder Machine. Used to solder components to PCBs that could be damaged by the heat of a traditional surface-mount technology or through-hole technology assembly process.

T

Through-hole Technology

Mounting scheme in which leads are placed through a plated hole in the PCB. The lead is soldered on the bottom side of the board.

T

Turnkey Assembly

The manufacturer provides the entire manufacturing process of a product, from design to production to final assembly.

U

UL Certified Product

Underwriters Laboratory nationally recognized standards for safety. A global safety consulting & certification company that provides recognized standards of safety. OSHA-approved to conduct safety testing in electronics & other industries.

V

Vibration Testing

Testing involving use of a shaker at a predetermined frequency and time to see if components stop functioning or detach from the product.

W

Wave Soldering

Process that involves the PCB being passed over a pan of molten solder. A pump inside the pan produces an upwelling of solder (hence the "wave" name).

X

X-Ray Inspection

Inspection of solder joints hidden from view, mainly bottom termination components.

X

X-Axis

Denotes left-to-right direction on a circuit board.

Y

Y-Axis

Denotes bottom-to-top direction on a circuit board.

Z

Z-Axis

Perpendicular to the point on a circuit board.
Did We Miss Something?
Don't see what you need? Get in touch with us here, and we can answer any questions you have about:
PCB design

PCB assembly

PCB testing

Box builds

General electronics manufacturing services
Editor's Note: This blog was originally published in November 2018 and was republished in March 2021 to reflect updated information.