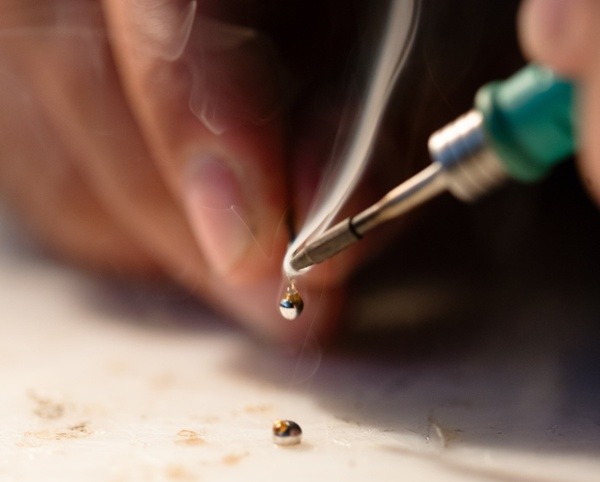 OEM circuit board applications cover a wide range of consumer and commercial products, from automobiles to microwaves to IoT devices that automate the functioning of smart facilities.
Through the years, PCB manufacturers have kept up with industry challenges and have responded with an influx of new technologies and practices. These include the miniaturization of PCBs, flexible printed circuits, and the growing demand for green electronics.
PCB manufacturing embraces practices that use less energy, reduce carbon emissions, and employ non-toxic and eco-friendly materials. Here we will discuss lead vs. lead-free solder, compare which is easier to work with, and discuss how your contract manufacturer should help your company stay compliant with RoHS guidelines that restrict the use of hazardous substances in electrical and electronic equipment.


What Are Lead & Lead-Free Solders Made of?
Lead solder (aka SNPB solder) is a metal alloy with lead (Pb on the periodic table of elements) and tin (Sn on the periodic table) as its base components. Many years ago, new U.S. plumbing systems banned lead pipes and any water supply pipes joined with lead solder. Later, the occupational risks of soldering with lead were also considered, and lead-based solder became a documented health hazard in the workplace. When inhaled, the dust and fumes generated by lead soldering practices are considered toxic.
For these reasons, lead solder continues to be phased out due to its negative environmental and health effects. But as a product manufacturer, you still want your contracted partners to deliver high-quality components with dependable, soldered connections and PCB circuitry.
Lead-free solder is a replacement for conventional 60/40 and 63/37 SnPb solder. In 2006 the Restriction of Hazardous Substances Directive (RoHS) was adopted by the European Union (EU), and the US followed suit by giving tax breaks to any company that reduced the use of lead-based solder. Today's lead-free solder will formulations that have a varied percentage of the following:
Copper
Tin
Silver
Nickel
Zinc
Bismuth
Antimony
The end goal is to choose quality solder alloys that when combined with other trace metals will achieve excellent mechanical properties.


Comparing Leaded vs Lead-Free Solder Paste
Considering soldering temperatures will depend on the alloy mix and quality, but typically 60/40 tin/lead solder will become liquid at 361°F. The higher the tin content, the higher the melting point and product cost. Lead-tin solders are easier to work with, they flow well, and are quicker to bring to a working temperature.
But, when it comes to safety, the risks of leaded solder are great and it should only be used when permitted by regulatory agencies. It must also be disposed of properly. Lead is harmful to the environment and is toxic to the body with the additional hazard of being so quickly absorbed into the bloodstream.
Lead-free solder paste will melt at higher temperatures of around about 422°F. Although the higher temperatures will necessitate a change in soldering practices, joints soldered with lead-free solder paste have proven to be reliable.
Because lead-free solder paste does not wet as well as leaded solder, expect solder joints to be different in appearance.


Other Factors to Consider
The reliability of any soldered joint or circuit run will hinge on reducing or eliminating soldering defects. To accomplish this, many factors must be considered, including:
Temperature
Vibration
Tin whisker
Preheating time and throughput
Operator skill levels
All these factors, including the use of a quality solder paste will play a role in manufacturing dependable PCBs. And when it comes to lead-free solders, it all boils down to choosing the right formulation and matching it with the right application. This is where your PCB fabricator is a valuable asset. Ideally, your partner will have extensive experience in RoHS material compliance.
When looking at solderability and the quality of lead-free solder vs. lead solder joints, expect a strong mechanical joint with lead-free solder. Lead solder forms a shiny and smooth solder joint for a higher appearance of quality. But, with PCBs and other internal electronics assembly, the consumer would rarely notice this difference.


Effect on Different Types of Soldering
The use of leaded versus lead-free solder paste will also have implications for the final product quality. But once again, when a PCB manufacturer implements tightly controlled soldering parameters, the effect is minimized. The design layout of the circuit board and the right component selection will overcome many quality control issues.
The choice of lead-free products for wave soldering or through-hole soldering is decided according to specific design parameters and product-use demands of the final assembled PCBs.
The higher temperatures associated with lead-free soldering mean proper board layout and component selection will be imperative to prevent metal decomposition or damage to sensitive electronic components. This is especially true during reflow when high temperatures are present for extended periods.
RoHS and Your Contract PCB manufacturer
Quality consumer products demand good solder joints that don't introduce hidden resistance into the circuit or act as a heat intermediary that may promote thermal-mechanical fatigue. When you specify lead-free solder to be used in PCB manufacturing, there is a reduced chance of cold, dry joints that lack mechanical strength.
Your PCB manufacturer should help you handle all RoHS material compliance issues that affect your electronic PCBs. As the US markets are experiencing a gradual change to lead-free soldering practices, many companies are following the EU's RoHS lead with restrictions on lead use in electronics. This means your devices can be manufactured in America and sold in Europe.
A single modification in soldering materials and/or techniques can change the entire PCB/device assembly and manufacturing process. Your PCB contractor's goal is to ensure your PCBs and final products are manufactured efficiently and economically, without sacrificing time to market.
To learn more about other electronics manufacturing regulations that may impact your design, download our free e-book below:
(Editor's Note: This blog was originally published in November 2020 and was updated in Decmber 2022 to reflect current information.)