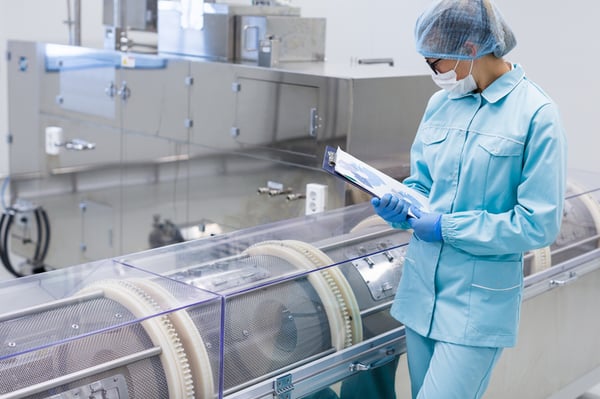 As you know painfully well, the coronavirus is causing growing demand for medical ventilators and other "life-sustaining" devices. As hospital visits begin to surge, the medical device supply chain is being stretched thin.
U.S. Food and Drug Administration is trying to spark increased production and availability of ventilators and accessories, as well as other respiratory devices, during the pandemic. Here's the latest on the FDA's efforts, plus some crucial advice for supply chain management in medical devices during these uncertain times.


Electronic Medical Devices Manufacturers: Still up and Running
Many businesses, including manufacturers, have temporarily closed or moved to a bare-bones setup during the COVID-19 scare. But medical electronic equipment manufacturers that supply to OEMS are still ready to work.
As the FDA notes, there's no other choice until demand calms back down.
From Health and Human Services Secretary Alex Azar:
"With this (production and availability) boost from the FDA, medical device makers can more easily make changes to existing products, such as changes to suppliers or materials, to help address current manufacturing limitations or supply shortages. Other manufacturers, such as automakers, can more easily repurpose production lines to help increase supply. Hospitals and other health care providers can repurpose machines they have now to serve as ventilators."


Maintaining Medical Device Supply Chain Lead Times
Due to anticipated product shortages, lead times are more important than ever.
Normally, anytime a manufacturer makes a modification to a ventilator device, an FDA premarket review is triggered. This can increase the time it takes to get these devices to patients' bedsides.
To ease the regulatory burden on manufacturers, the FDA is now using discretion on whether to enforce review requirements on certain modifications to medical devices.
The agency is encouraging U.S. and international electronics manufacturers to consider pursuing emergency use authorization, which would allow them to distribute ventilators in the United States. This includes U.S.-based manufacturers already making medical devices but capable of increasing output.
While demand is high and lead times are critical, working with turnkey PCB design and manufacturing companies should prove beneficial. Potential benefits of single-source PCB manufacturing include:
Less wasted time moving components from facility to facility
Lower shipping costs
Decrease in potential errors due to poor communication between parties


What You Need Out of Your PCB Supply Chain
Because they create components for life-sustaining devices, electronic medical device manufacturers are still open for business, supplying OEMs with whatever they can, as fast as they can.
More than ever, it's critical to work with manufacturers that understand the risks and challenges of medical electronics design. The manufacturer should have:
A design engineering team familiar with mission-critical applications
Production facilities with the capacity and technology to build, test, and track your components
Thorough understanding and years of experience with ISO 13485 requirements


Class 3 Electronics Experience
Electronic medical devices fall under IPC Class 3 electronics. They are considered "mission-critical," and failure of a device could put human life in danger.
Partnering with a PCB manufacturer with expertise in Class 3 projects decreases the time needed to get up to speed and increases the likelihood the design will meet your stringent safety needs. All -- not just some -- of the contractor's employees who will be involved in this project should have Class 3 experience.


ISO 13485 Certification & Other Training
The ISO 13485 medical certification is a stamp of approval for the quality management system your electronics contract manufacturer has in place. It guarantees that the contractor manufactures safe, reliable, and effective circuit boards and assemblies.

The PCB design staff should be trained in all related standards:
Surface mount technology and through-hole technology production: J-STD-001 and IPC-610
Cable & harness production: IPC-620
PCB rework and repair: IPC-7711
While the FDA is fast-tracking projects to get them in hospitals' hands more quickly, it's still vital to work with a manufacturer with proper certification and record-keeping capabilities. If nothing else, it gives you peace of mind that the loosening of FDA oversight won't result in a less effective or more dangerous product hitting the market.


How's Your Supply Chain Doing?
It's impossible to accurately predict coronavirus's impact on supply chain management. What we do know is that while many companies are closing down because of COVID-19, Matric and Dynamic Manufacturing, as well as other electronics contractors, are up and running.
Matric Group manufactures printed circuit boards for life-sustaining and life-saving equipment, precision microscopes, autonomous controls, and more. If you're struggling to get the electronics you need for your daily operations, contact us or visit our COVID-19 resource page: