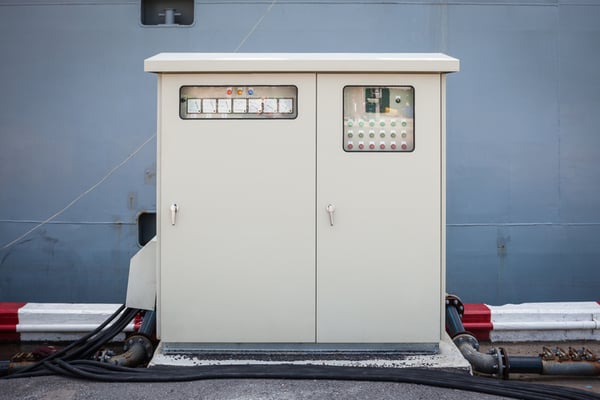 Electronic devices are the sum of their parts, including the box in which you house them.
What is a box build? Also known as systems integration, a box build assembly is a combination of the circuit boards, routing cables and wires, subassemblies, and finally the enclosure fabrication. The assembly, when fully finished, is a completed product that operates as it was meant to, with a practical enclosure that meets the needs of the application.
Choosing the right enclosure is critical for the success of your electronic device, whether that's a wireless industrial control, a piece of medical equipment, or part of an energy distribution system.
Use these electronic enclosure design guidelines to select a box that can withstand the conditions of your application while also ensuring smooth operation of the device and any aesthetic qualities your brand may require.


Electronic Enclosure Design Guidelines & Best Practices
The right box build design will ensure the long-term success of your electronics project. Thoughtful planning and testing must go into the design of any industrial electronic enclosure. Boil your strategy down to these five words:
Fit
Materials
Transmission
Layout
Compatibility


1. Get the Right Fit
Use 3D modeling to create an enclosure with the perfect fit that combines safety, functionality, and cost-effectiveness. Intended quantities will also affect the tooling, materials, and setup costs reasonable for your product.
Dimensions are an important part of your final product. The size and weight of the product will affect shipping rates and ultimately, consumer costs.
The larger the device, the more difficult it may be to create a proper enclosure. Work with your design or product development team to ensure that the size and dimensions of your device meet its design-for-manufacturability needs. PCB layout can provide modeling that will allow optimal space considerations while also checking for interference issues.


2. Choose the Best Electronic Enclosure Material for Your Needs
Consider several factors when choosing the proper material for your electronics build box:
Durability
Malleability
Availability
Cost
Custom molds are available, but the design must be fully finished before molds can be created.
Metal is the material of choice for many products that need to be durable and cost-effective, but work with your ECM to ensure that the shape you've chosen is easily manufacturable. Plastic is much easier to shape with proprietary molds and provides corrosion immunity; your manufacturer can easily customize it to create unique shapes. For lower-quantity designs, consider sticking to off-the-shelf plastic enclosures that don't require setup costs.
When selecting the material, always take into consideration the end user's application. Many environments require a durable and nonpermeable enclosure:
Outdoors
Underwater or underground
Extreme temperatures
High moisture
Non-corrosive metals are often used outdoors, as well as thick, durable plastics. Underwater, the water-tightness of the enclosure becomes important as well. The fewer possible points of entry for water, the better.
Some materials require larger up-front costs, such as pour-in aluminum casing. Your electronics manufacturing services provider should be willing to explain costs and how your choices affect them. A longer-lasting product or custom-branded product may make higher up-front costs worth it.


3. Ensure Adequate Transmission
Metallic enclosures can hinder transmission of wireless signals. Plastic enclosures are more appropriate for wireless devices, but some wireless devices need a metal enclosure for other reasons, such as corrosion resistance.
ECMs that specialize in design assistance help you create an enclosure that allows proper transmission while also providing protection for your devices.


4. Select Thoughtful Layout & Design
Though the appearance of the product isn't everything, it may amount to more than you realize. Study the aesthetic practices of industry competitors before making decisions that affect the appearance and usability of the product. Consider whether you'd like a branded theme for your product and if it's reasonable for your order volume.
Customers may want devices that are compact and easy to carry, or bulky and hard to miss. Know who the audience is and the type of products they expect.


5. Compare the CAD to the BOM
Before moving into production, compare your CAD to the BOM (bill of materials) to ensure package compatibility.
Think of the bill of materials as your blueprint for your electronics manufacturing supplier. Double-check the entire BOM to avoid communication issues. While this can be done manually, using specialized software to compare the BOM and CAD can prevent errors.
Your ECM may have a software suggestion if you're still looking for the right app for your specific needs.


Contact a Trusted Electronics Contract Manufacturer
Your electronics contract manufacturer should be your box-build assembly outsourcing partner -- not just a quick-turn PCB house. Choose carefully -- selecting an electronics manufacturing services (EMS) design partner with proven PCB and enclosure experience will improve your odds of success.
To help you find the right PCB components for your electronics box build, check out the free sizing charts below: