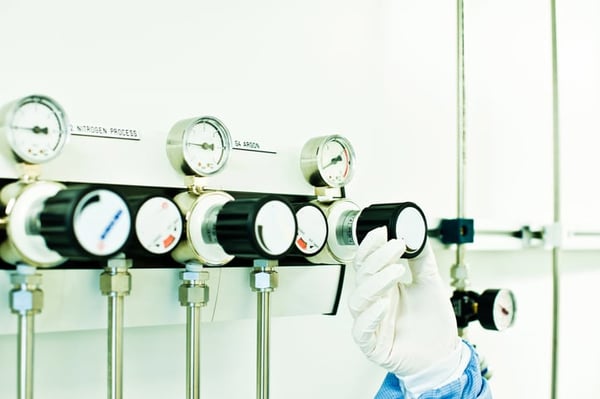 A tanker departed from Freeport LNG in September 2019 with the first export cargo produced at the Houston facility. The late-afternoon moment in which it left shore strengthened the United States' position as a major global supplier of the super-chilled fuel known as liquid nitrogen gas (LNG).
And believe it or not, Matric's variable frequency drive repair services had a small role in disrupting Russia's monopoly in LNG.


The Variable Frequency Drive Circuit Board
Freeport LNG is one of the first and largest exporters of liquid nitrogen gas. The LNG's journey actually started with a train. The train took the LNG to a port, after which it was loaded onto the tanker.
Matric's role came during transportation to the port.
Freeport's transportation method involves use of variable frequency drives to keep the liquid nitrogen compressed and cooled. The frequency drive is a controller that drives an electric motor. The customer needed reworked circuit boards that could help the drive regulate the temperature and pressure of the LNG.
Without correctly modified boards, Freeport couldn't transport the product. Needless to say, these boards would be very important to sparking Freeport's venture into exporting.


Matric's Variable Frequency Drive Repair Services
This is where Matric finally enters the story. A globally known company that served as Freeport's OEM contacted Matric because it had 700 boards that needed modification.
The boards weren't working -- the OEM couldn't get the right frequency to keep the LNG safe. Up to that point, the OEM had nobody that could do the reworking and supply test results — until Matric.
Freeport's supplier had a very stringent time frame it asked us to meet. The highly detailed schedule required certain quantities of PCBs at certain times. One shipment would be needed overnight, then another one 72 hours later — requests were all over the map. Yet Matric achieved on-time delivery for all 700 boards.
The Global Impact
The safe passage of this cargo to overseas customers was a landmark moment for U.S. business. Why? Freeport's tagline of "Taking U.S. Gas Global" tells it all.
The LNG market had been dominated by Russia up to this point. Now the U.S. can export it and be a contender too, since it's finally able to provide the energy at a lower cost.
You could say Matric's solution played a role, however small, in bringing a measure of market influence stateside to provide economic benefit and jobs to our energy industry!
Freeport and market spectators expect major impact from the ability to export LNG:
Job creation

Economic growth

Better U.S. foreign trade balance

Environmental benefits
It just goes to show that a seemingly minor innovation can have an impact worldwide.