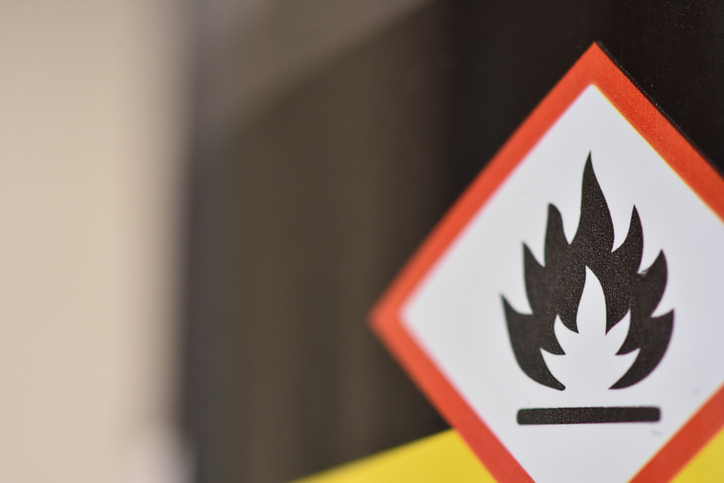 For companies that buy and sell products for use in a potentially explosive atmosphere, a roadmap of guidelines isn't just helpful -- it's also a must-have.
Fortunately, we have the help of the International Electrotechnical Commission System for Certification to Standards Relating to Equipment for Use in Explosive Atmospheres (mercifully abbreviated as IECEx).
"The what?" you say. While the name's a mouthful, and the guidelines are tricky, we'll break down IECEX certification into simple takeaways and highlight where you're affected as an OEM.
An atmosphere is considered explosive if the activities of a manufacturer may cause the air to be saturated with explosive gases, dust, mist, or vapor. IECEX guidelines ensure the safety of workers, equipment, and the surrounding environment. These guidelines also protect the buyers of the equipment.
IECEx partners with local certification bodies that monitor manufacturers of equipment for use in explosive atmospheres. Here's how it all goes down:


How Does SIRA Fit Into IECEx Certification?
SIRA tests products' and manufacturers' compliance with the standards specified by IECEx. Once equipment and other "Ex" products have passed SIRA testing and certification, The CSA-SIRA Group can issue the manufacturers with a test report (ExTR) and IECEx certificate of compliance.
SIRA has to base its evaluation on IECEx guidelines and can only give certification with IECEx approval.
SIRA also monitors manufacturers' repair and overhaul of used equipment. The goal is to ensure that the overhaul doesn't compromise the IECEx guidelines on equipment for explosive atmospheres.
So, how to get a SIRA certificate? Once SIRA is convinced that the overhaul followed the IECEx checklist, it gives a certificate of compliance and updates the online SIRA certificate database. A SIRA certificate proves that your contract manufacturers are accredited equipment repair and overhaul service providers in the explosive-atmosphere industry.


A 60-Second History Lesson on IECEx
Lord William Thomson Kelvin founded IEC in the early 1990s to provide a standardized measure of quality for the explosives sector.
Before IEC standardization measures existed, providers had a hard time navigating regulations since each country had a separate certification. Providers had to incur new testing costs anytime they ventured into a new market. The certification requirements were also different for each region, so one company had to comply with several sets of rules for the same product.
It wasn't until 2003 when the first equipment certifications were issued, and 2006 for the explosive service provision. Since then, IECEx has offered over 40,000 certificates to the explosive industry in over 33 participating countries.


IECEx Hazard Groups
There are four broad groups to which IECEx gives certification:
Gas Zones
Gas zones are based on how frequently explosive gases are expected to be present in the evaluated zone and how long each period is expected to last. The areas are then categorized into seven zones:
Zone 0: The highest level of gas hazards. Ignitable gases are projected to be present very frequently and over long periods or throughout the factory's ordinary operation.
Zone 1: Ignitable gases occur periodically during the usual operation of the firm.
Zone 2: Ignitable gases aren't expected to show up in ordinary operation, and when they do, it's only briefly.
Division 1: Zones where ignitable gases are present during normal operations, or are likely to be present due to maintenance or repair of equipment.
Division 2: Zones where ignitable gases are not likely to be present during normal operations, but the gases are kept in closed containers, and they can only be present in cases of accidental leaking, when containers break down, or when equipment is operating abnormally.
Gases are further divided into other categories that denote their likely presence:
IIC (acetylene and hydrogen)


Dust Zones
Zone 20: There is the likelihood of explosive dust occasionally forming in the atmosphere during usual operation.
Zone 21: Explosive dust is not expected to show up during standard operation, and if it does, it's only briefly.
Safe or Non-Hazardous Area: Explosive gas or dust is not expected to be present in the atmosphere in concentration levels that require regulation.
Other explosive dust categories include:
IIIA (ignitable fibers, such as cotton and lint)
IIIB

(non-conductive dust, such as flour, grain, wood, & plastic)
IIIC (conductive dust, such as magnesium)


Equipment Groups
Group I: For use in mines that are susceptible to firedamp
Group II: For use in explosive gas atmospheres
Group III: For use in explosive dust atmospheres


Enclosure Ingress Protection (IP) Zones
International Protection Rating is a safety measure for the level of sealing of electric enclosures. This box must keep the equipment from attracting dirt and other external elements that could harm the equipment or cause an accident.


BS EN IEC 60079-19:2019 Explosive Atmospheres -- Equipment Repair, Overhaul, and Reclamation

Another mouthful that we'll call 60079-19 for short, is a standardization guideline for manufacturers and users of electrical equipment in areas with a high concentration of flammable gases, dust, or vapor.
The standardized procedures require firms and individuals to modify the equipment to prevent the production of sparks that can react with flammable gases.
The safety procedures also guide manufacturers on how to repair electrical equipment and overhaul their design to minimize or even avert the hazard posed by flammables.
IEC 60079-19:2019 guidelines are followed by:
Manufacturers of electrical equipment for Ex atmospheres
Testing houses
Electrical engineers
Chemical plants
Gas works/distributors
Manufacturers
Engineering companies/engineers
Insurance companies
Legal system(!)


What's the Difference Between ATEX and IECEx Certification?
A common question. IECEX provides an international system for the standard procedures that enhance safety for people working in the explosives industry.
IECex certification bodies test:
Equipment
Factories
Manufacturing procedures
Staff
The organizations that IECEx approves are referred to as ExCBs (IECEx Certification Bodies); there are currently 57 of them.
On the other hand, ATEX is a set of directives given by the European Union for the safe operation of equipment in an explosive atmosphere. ATEX comprises two directives: ATEX 137, which provides guidelines on the protection of workers' health in an explosive atmosphere, and ATEX 95, which is concerned with the equipment itself.
ATEX governs Ex industry products supplied to the European Union. U.S. suppliers whose products have already been certified by The U.S. National Committee for the IECEx (USNC/IECEx) must pass the regulations of ATEX directive 94/9/EC.
To sum it up, ATEX's operation is based on IECEx's guidelines, albeit with a few differences.


Industries and Applications That Should Be Mindful of IECEX
IECEx procedures offer guidelines to all stakeholders in explosive atmospheres.
Process industries
Manufacturing industries
Industry regulators
Original equipment manufacturers (OEMs)
Ex industry experts


IECEx & Aftermarket Services
When a company buys equipment from a contractor, the equipment is certified to meet the standardization requirements for IECEx. However, after operating the equipment for some time, and with the expectation of gradual wear and tear, the equipment may require repair or replacement of parts to continue meeting IECEx standards.
Electronics contract manufacturers, being the true originators of the equipment, are best suited to repair, improve, and supply components for the equipment they sold. These contractors are governed by the IECEx guidelines in BS EN IEC 60079-19:2019.
Ideally, your contract manufacturer is IECEx-certified, making it easy for the buyer to pass an evaluation by a certifying body.


What Is IECEX Testing?
IECEX testing for electrical equipment evaluates the contractor's compliance to IEC regulations stipulated in 60079-19.
The testing goes beyond the product's manufacturing. It also checks whether the OEM will be able to maintain the equipment's original standards over time. After this step, a Quality Audit Report (IECEx QAR) happens.
There's no set, testable standard that buying companies have to comply with, but they must keep the equipment performing to its original standard. Therefore, the buying company should consult with the contractor to evaluate the equipment's health and replace worn-out parts.


Aftermarket Practices an Electronics Manufacturing Service Should Provide
An IECEX-certified contract manufacturer should provide the following aftermarket services:


1. Suggest New Technology
Examples of new information that the contractor could share with the buyer may include:
Incorporating the

Internet of Things

into the equipment
Energy-efficient methods or additions that can benefit the equipment
More cost-effective ways of running the equipment to maintain IECEx requirements


2. Replace Worn-Out Parts With Standardized New Parts
The contractor should provide spare parts that have been manufactured under IECEx certification guidelines. The replaced parts should help the equipment to run as it did on Day 1.


3. Routine Checkup
The contractor should, from time to time, do a comprehensive checkup of the equipment it sold. Regular checks ensure that the equipment performs optimally and that the user doesn't miss a damaged part that could cause a deadly accident.


IECEx Guidelines: Much More Than a Certificate
The benefits of IECEx certification go beyond recognition of "playing by the rules."
Manufacturers who follow the stipulations end up streamlining their operations and management of explosives production and use. A "well-oiled machine" minimizes the need for extra repair and servicing costs.
You can learn more about crucial regulations and standards for the electronics manufacturing industry by grabbing this free e-book: