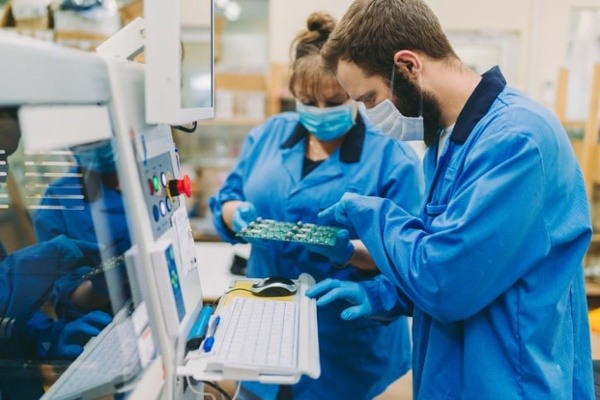 Whether you're in the electronics, healthcare, or manufacturing industry, it's easy to get overwhelmed by the hodgepodge of standards regarding PCB design. And that's why it's crucial to choose an electronic contract manufacturer that follows the IPC standards for PCB design.
Formed in 1957 The "IPC -- Association Connecting Electronics Industries" (IPC for short) holds the most widely accepted quality and reliability standards for PCB design.
IPC standards cover everything from the materials used in designing rigid or flexible boards to the manufacturing process. When it comes to designing your next PCB board, the reliability and quality are dependent on your electronics contract manufacturer having experience working with IPC industry standards.


Understanding the Different IPC Standards for PCB Design
When it comes to designing and manufacturing electronic components, each industry has different applications and uses in mind. As such, there was a need for standardized design and manufacturing practices. In comes the IPC standards for PCB design.
Covering everything from rigid or flex boards to component and assembly issues, the IPC 2220 series provides specific guidelines for the design of PCB boards no matter what industry. Following the tree design, the IPC 2220 series includes:
Here's a quick rundown of what each standard covers:
IPC-2221: Generic Design
For PCB design IPC-2221 is the must-read, most important standard that covers just about every aspect of PCB design. The standard details how electrical considerations such as PDN bus layouts, conductor clearance, and impedance control should be implemented on a PCB as well as various methods of dissipating heat in PCBs.


IPC-2222: Rigid
IPC-2222 has the goal of providing "optimal component placement, routing density and electrical performance to achieve an efficient design with high yield and defect-free manufacturability." This standard explains the factors that enhance the manufacturability of a rigid PCB, including:
material selection

interconnects
hole size
mechanical properties


IPC-2223: Flex
IPC-2223 provides requirements on the design of flexible PCBs and the many forms of component mounting. It covers important design considerations such as:
pad placement
structural specifications
overlays
bend radius


IPC-2224: PCMCIA
IPC-2224 is your one-stop shop to understand the requirements regarding the design of PCBs for PC card form factors. IPC-2224 covers everything from a guide to laminate thickness to stiffeners.


IPC-2225: MCM-L
IPC-2225 covers the requirements for the design and assembly of uncased or bare chips on substrates.


IPC-2226: HDI
IPC-2226 covers the requirements and considerations when designing a high-density interconnect PCB.



Why IPC Guidelines Matter for the Highest-Quality PCB Designs:
Regardless of what industry you're in, ensuring the design and manufacturing of your PCB uses the highest quality PCBs ensures the products you're creating will outlast your expectations. - and that starts with your electronics contract manufacturer (ECM).
Having an ECM that follows IPC guidelines brings several benefits, including:
Reputable: IPC standards are internationally recognized and are known throughout each industry. Working with an ECM that follows IPC guidelines ensures that you're getting the highest quality and consistency on the market.
Reliability: IPC standards, when fully integrated into the ECMs production line, help improve the quality and reliability of your products.
Consistency: IPC standards have the customer in mind, and integrating IPC standards into the supply chain ensures that each component is produced consistently and will work each time as intended.
Cost Reduction: With better quality and better consistency, fewer quality checks, recalls, or other quality-control issues will arise because each part is designed and manufactured the same. This will also reduce downtime communicating between sectors, companies, or manufacturers.
When it comes to PCB design, getting it right the first time is crucial to saving time and money. For more information on how Matric can help with your next design, click the "read now" button to check out 4 PCB prototyping services we offer or check out our capabilities below: