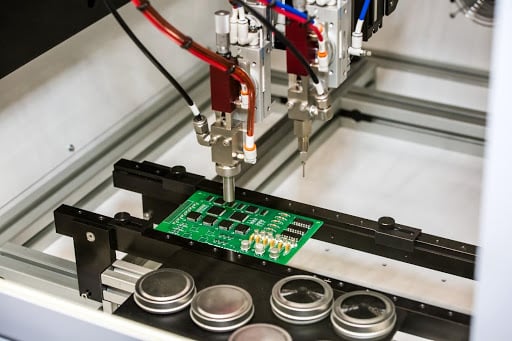 With the rise of IoT and technology in general, electronics are featured in myriad environments. This means that sensitive electronic connections are potentially exposed to hazards like extreme temperatures, moisture, and dust that can harm components and disrupt the integrity of the assembly itself.
One preventative measure you can take is the use of PCB conformal coating during the production process. This procedure applies a thin transparent film to a circuit board, which contours to its shape and protects its components.
If your assembly will potentially face exposure to adverse conditions, you should consider whether conformal coating is right for your design. If so, consider which types of conformal coating make the most sense and with which method should you apply it.
With that in mind, let's go over some of the types of conformal coating at your disposal


Types of Conformal Coating
Popular types of PCB conformal coating include:
Brush

Spray

Dipping

Selective coating
Brush Method
A simple application method, this is best for low-volume production, rework, and repair.
Brush coating is done by hand and tends to be thicker and less cosmetically appealing. This option is best for those without the tools to utilize other options or when working on a few boards at a time.


Spray Method
This method involves using an aerosol spray to apply the coating. Also better for lower-volume production, spraying can be time-consuming because all areas that don't require coating need to be masked.
This method provides a superior surface finish and is cost-effective, but doesn't offer deep penetration of the board.


Dipping Method
"Dipping" involves submerging a board in coating solution, then withdrawing it.
Good for high-volume production, this method is fast, accurate, and completely penetrates the board, coating the entirety of the assembly. However, masking must be perfect to avoid leakage, making many boards unsuitable due to design. Only boards that accept coating on both sides can be subject to this method.


Selective Coating Method
This strategy uses automated robotic spray nozzles to apply conformal coating to specific areas of the assembly.
Another high-volume method, selective coating is fast and accurate and applies the coating directly to the areas of the board where it is required, eliminating the need for masking.
You must design your circuit board to be compatible with selective coating.


Types of Conformal Coating
Acrylic Resin (AR)
Pros
Ease of rework

Ease of drying process

Good humidity resistance

High fluorescence level

Ease of viscosity adjustment
Cons
Difficult to maintain viscosity

Flammable

High probability of reversion under temperature and humidity stress


Epoxy
Pros
Useful to around 150 fC [302fF]

High chemical and abrasion resistance

CTE closer to epoxy PCB substrate

Good dielectric properties

Good humidity resistance
Cons
Higher chloride contamination potential

Process-intensive, difficult to maintain viscosity

Complex mix ratios

Potential for high stress during temperature cycling conditions

Difficult to rework

High probability of reversion under temperature and humidity stress

Difficult to remove

Lacks flexibility


Urethane (Polyurethane) Resin (UR)
Pros
Good dielectric properties

Good moisture resistance

Solvent-resistant

Less reversion potential

Abrasion-resistant
Cons
Moisture affects cure rate and desired properties

Long complete cure time (up to 30 days)

Health and safety concerns

Potential for high stress during temperature cycling conditions

High probability of reversion under temperature and humidity stress


Silicone Resin (SR)
Pros
Stable over wide temperature range (in general, -40ƒC to 200ƒC)[104ƒF to 392ƒF]

Flexible, provides dampening and impact protection

Good moisture, humidity, and UV/sunlight resistance

High dielectric strength

Fair moisture and abrasion resistance

Low surface energy to enable effective penetration under components
Cons
Short pot life

Does not protect against solvents or solvent vapors

If proper housekeeping is not followed, there is a potential for cross contamination

Requires humidity (minimum 20% RH) to cure and only intermittent solvent resistance


Poly-Para-Xylelene C, D, N
Pros
Excellent uniformity regardless of part geometry -- no pinholes, fillets, or bridging

Chemical inertness/barrier properties -- insoluble in organic solvents, acids, or bases, with very low permeability rates

Minimal added mass and low outgassing

Biocompatibility allows uses in many medical applications

Low environmental impact process
Cons
Parts are processed by batches in a vacuum chamber, not an in-line process

Masking required for no-coat areas

Coating removal and rework generally requires specific equipment, abrasion/micro-blasting most common technique

Limited UV resistance and operating temperature limit, around 120ƒC [248ƒF] in the presence of oxygen

Cannot be doped


Amorphous Fluoropolymer
Pros
Low dielectric constant

High glass temperature

Low surface energy

Low water sorption

Good solvent, oil and common acid resistance
Cons
Requires special liquids for polymer swelling

Limited solubility which limits film thickness

May require glass temperature annealing

Requires special surface treatment for greatest

Adhesion

Poor resistance to some acids and alkalines


Fluorinated Poly-Para-Xylelene
Pros
Excellent uniformity regardless of part geometry 'no pinholes, fillets, or bridging

Chemical inertness/barrier properties ' insoluble in organic solvents, acids, or bases, with very low permeability rates

High temperature stability (450ƒC [842ƒF]) and increased UV stability

Low dielectric constant, 2.28

Low environmental impact process
Cons
Parts are processed by batches in a vacuum chamber, not an in-line process

Masking required for no-coat areas

Coating removal and rework generally requires specific equipment, abrasion/micro-blasting most common technique

The coating is deposited at a rate slower than the conventional poly-para-xylelenes

Requires special deposition equipment different than that for the C, D, and N poly-para-xylelene varieties