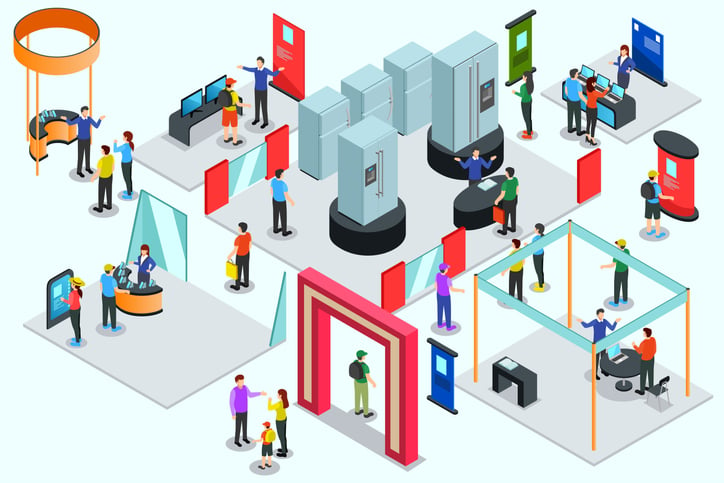 The Design-2-Part show for the Greater New York area will be held April 26-27 in Secaucus, NJ.
Come see our experienced staff at Booth #320 and discuss printed circuit boards (PCBs) and today's technology potential. Visit our trade show page for more information on this trade show and others coming up.
Exhibiting Pros | Network and Collaborate for Solutions
The Design-2-Part Greater New York show will be held at the Meadowlands Exposition Center. The hours are 9:30 a.m. to 3 p.m. April 25-26. The show invites manufacturers of the core Mid-Atlantic region (New Jersey, New York, Pennsylvania, and Delaware) to attend. Currently more than 34,900 manufacturers call this area home, with employee totals of around 1.29 million workers.
The Design 2 Part show provides a unique opportunity for exhibitors to demonstrate their latest offerings and develop new relationships with potential customers. Many of the industry's most renowned designers, manufacturers, and suppliers are at the show every year, providing attendees with various solutions to their business needs.
The Design 2 Part show is the only one in the region to feature design and contract manufacturing exhibitors. It also has the distinction of attracting those who are ready to commit. Last year's show saw 64% of attendees ready to purchase within six months, while 66% of those who attended had the power or were involved in final decision-making.
During the two-day Design-2-Part Greater New York Show, the following industries will be represented:
Electronics
Electronics Mfg., Computers/Subsystems, Instrumentation & Controls
Aerospace/Aviation
Machinery
Custom Metal Parts
Automotive
Custom Plastic Parts
Government/Defense
Hardware
Location and Learning: You Can't Go Wrong
The Design 2 Part Greater New York show is an excellent opportunity to explore some of the latest trends in design and engineering while also taking advantage of all that Secaucus has to offer. With hundreds of exhibitors from around the world, attendees are sure to find something that piques their interest. Register for the Design-2-Part Greater NY show today.
In addition to the focus on design and engineering, the show also provides a variety of activities for visitors. Attendees can explore what's new in the design and manufacturing world, as well as learn from industry leaders and experts. At the Design 2 Part Greater New York show, visitors can stay up-to-date on the latest developments in design while also having a great time exploring all that Secaucus has to offer.
Get Out and Enjoy Secaucus
Secaucus is a convenient and cost-efficient alternative to New York City, with easy access off the Eastern Spur of I-95. Featuring more than over 1,000 hotel rooms within walking distance at lower rates than you'd find in New York City, the Meadowlands Exposition Center is an optimal destination for manufacturers.
Secaucus, NJ is an exciting destination for a wide range of activities and attractions. From exploring historic sites to taking part in outdoor recreation and entertainment, Secaucus offers something for everyone.
One of the top attractions to experience in Secaucus is the Meadowlands Sports Complex, home to the NFL's Giants and Jets. It is also the site of two major league soccer teams, a professional lacrosse team, and a minor league baseball team. Check to see who's playing while you are in Secaucus.
Busy with Plans for 2023? Check Out this Resource
If you aren't registering for the Design-2-Part Greater New York trade show and won't be able to stop by the Matric booth, consider the following resource: